Seoul is the capital city of South Korea and one of the most visited cities in the world. Seoul is considered the most livable city in Asia and among the most modern cities in the world. Incheon International Airport is the largest airport in South Korea and is found in Seoul. It's a highly rated international transit airport with thousands of daily flights. There aren't too many modern and futuristic cities in the world this is why it attracts a sea of tourists. While in Seoul you can choose to go on guided tours or hire a car. The city is filled with luxurious and affordable hotels with panoramic views for you to stay in. Below is a visual guide for a trip to Seoul.
1) N Seoul Tower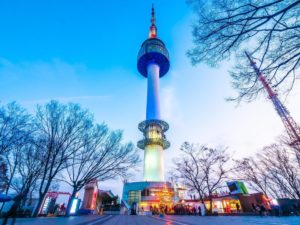 Many consider this tower to be the Eiffel tower of South Korea. Standing on top of Mount Namsan, the tower is the 2nd highest point in the city. The tower is an observation and communication centre. At the tower you get a 360 degree view of the magnificent city. The N Plaza has a light garden, grass terrace, a food court and souvenir shop where tourists can unwind. Foodies can enjoy a variety of Korean dishes at the restaurant. The 2nd floor consists of a Wishing Pond, Analogue Observatory and Photo Studio. It's in the 3rd floor where we find the Digital Observatory, the digital High-Powered Telescope and gift shop. There's a one of a kind revolving restaurant that does a full revolution every 48 minutes.
2) Lotte World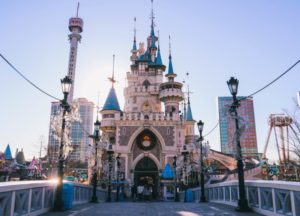 Lotte World is among the world's largest indoor theme parks. If you're an adrenaline junkie then the Atlantis is the one for you. The rollercoaster takes you on a thrilling ride 20m high at 72km/h dropping at an angle of 72 degrees. Flume ride takes 4 people on a log boat on a pulsating ride that takes them up in the air ending with a dive into the water. The picturesque Camelot Carousel is a must do. Rotating at 360 or 540 degrees the French Revolution rollercoaster takes you on a ride up and down. If you're feeling rather daring, go to the Gyro Swing which will take you up in the sky while spinning or the free fall Gyro Drop. Purchase your ticket early to avoid long lines.
3) Lotte World Tower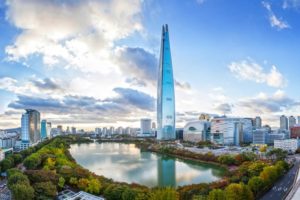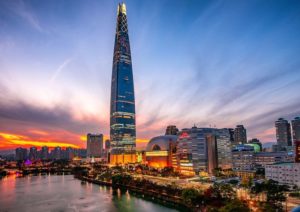 Lotte World Tower is the tallest skyscraper in South Korea and the 5th highest in the world. On its 123 floors you'll see offices, restaurants, a luxury hotel, event hall and an observation hall. Being the highest building, you get unobstructed views of the city. The Sky Lounge is on the 123rd floor of the building and here you can dine while taking in the view as it isn't too crowded. The incredible sky bridge connects the 2 structures at the top of the tower. The observatory requires a ticket for you to access it.
4) Lotte Young Plaza
This is a youth-centered shopping mall on Myeondong Street. The shopping centre houses a variety of fashion brands on its 6 floors and rooftop. Events take place on the basement floor of the plaza. Handbags and cosmetics are on the 1st floor, young casual outfits are on the 2nd and 3rd floor. Jeans casual and sports stuff are on the 4th floor while the unisex casual clothes are on the 5th floor. On the 6th floor there is fast food.
5) Starfield Library
Starfield Library is located in COEX Mall. It has 2 stories and 13 metre bookshelves with over 50,000 books. The library is a public space and people are free to come in and sit, look around or take a book and read. There are many different genres of books to choose from depending on your interests. For those who prefer e-books, there are ipads available for you. Apart from books, there are over 600 magazines for you to peruse through.
6) Bukchon Hanok Village
Bukchon Hanok is a traditional Korean village located on top of a hill between Changdeok Palace, Gyeongbok Palace and Jongmyo Royal Shrine. There's a lot of fun things you can do when you visit the village. The first thing you can do is to wear a Hanbok, a traditional Korean outfit, and walk around in it. You have the option to either buy or rent the Hanbok. Some of the Hanok houses have been transformed into museums full of art and crafts. Remember to take your shoes off before you go into the Hanoks. You can also create your own traditional Korean crafts. Further head to the Tea House & Cafes to relax, indulge in tasty Korean cuisines. Lastly, you can spend a night in a Hanok. Grab your tickets here.
7) Seoul City Wall Trail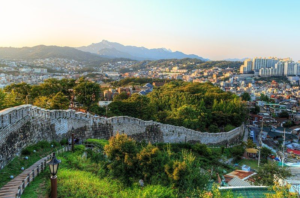 The city wall trail follows Baegak, Naksan, Namsan and Inwangsan which are the 4 main mountains in the city. The trail is about 18.6km long and the walls are between 5 and 8m high. Baegak Trail is 4.7km and runs from Changuimun Gate to Hyehwamun Gate and is the highest trail. Naksan Mountain Trail runs from Hyehwamun Gate to Heunginjimun Gate and is 2.1km taking 1 hour to complete. Heunginjimun Gate Trail takes 1 hour to complete and is 1.8km and ends at Jangchung Gymnasium. Namsan Mountain Trail is 4.2km long covering Jangchung Gymnasium to Baekbeom Square. Sungnyemun Gate Trail is from Baekbeom Square to Site of Donuimun Gate covering 1.8km. The last one is Ingwangsan Mountain Trail 4km long taking about 2 hours and 30 minutes to complete. It runs from Site of Donuimun to Changuimun Gate.
8) Leeum Museum of Art
Leeum Museum is a modern museum that stands on Mount Namsan overlooking Itaewon district. Leeum Museum uses modern technology to display its works of art that aren't available anywhere else worldwide. A wide variety of art is on showcase from traditional Korean art to modern art. You can soak yourself in the beauty of unique yet modern art on display. There are cafes and shops inside if you want to grab something. Remember foods, beverage and pets are not allowed inside. Tourists are also not allowed to take pictures and videos in the museum.
9) Myeong-dong
Myeong-dong is a bustling shopping area lined with luxury brand stores, cosmetic shops and recognized fashion brands. It is the Champs-Élysées, Oxford Street or Istiklal Caddesi of Seoul. Myeong-dong has 2 main street that converge at the centre of the block. One street starts from Myeong-dong Subway Station and the other from Lotte Department Store. The main products on sale are clothes, shoes and accessories from known brands sold at reasonable prices. The street consists of plenty of dining options from Korean dishes to fast food. Banks, hair salons and theatres are here too.
10) Dongdaemun Design Plaza
Located in the Dongdaemun area the plaza acts as a venue for design related exhibitions, events, shows and conferences. Dongdaemun has 5 halls, the museum, design lab, art hall, design market and Dongdaemun history and culture park. The Art Hall houses the Korean creative industry. Museum Hall is where global trends and Korean designs converge. The Design lab houses rising Korean and international creative product designers. Design Market Hall brings together shopping and culture experiences.
Subscribe to my newsletter to stay up to date!