Lauded as a city that blends the ultramodern and traditional, Tokyo though often busy, is one of the best places to visit in Asia. Owing to it's infrastructure and design, Tokyo is one of the world's most modern cities. Additionally, it has been praised for being one of the easisest places to get around thanks to its amazing rail and subway networks. There's a lot to see and do in Tokyo but here are the 10 best places to visit in Tokyo.
1. Tokyo Skytree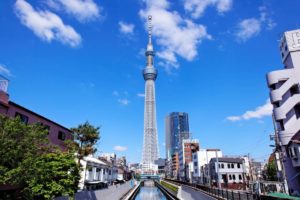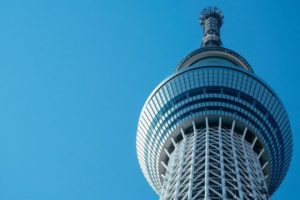 Tokyo Skytree standing at 634 meters tall is literally an unmissable attraction when in Tokyo. As the World's tallest freestanding broadcasting tower, it offers two observation levels. One is at the 350m mark and the other at 450m mark both offering stunning views of Tokyo and famous attractions like the iconic Mount Fuji. Even if you choose not to go inside, its exterior is still something to marvel at.
2. Tokyo Tower
Completed in 1958, the red and white 333m tall Tokyo tower is another must-visit landmark when in Tokyo. Though it's inspired by the Eiffel Tower in Paris, the tower symbolizes Japanese recovery after World War II. Like Tokyo Skytree, it also has 2 observation decks, the main deck at 150m (you can choose to take 600 steps to get here) and the top deck at 250m. The lower floors called Foot Town are packed with shops and dining areas where you can get unique souveniers.
3. Sensō-ji
Sensō-ji is Tokyo's oldest temple and is found in the district of Asakusa. You'll enter through Kaminari-mon Gate (Thunder Gate) which serves as the symbol of Asakusa. Between Kaminarimon gate and Hozomon, the second gate, there's a bustling 200m long shopping street called Nakamise. Past the Hozomon gate, we find the temple's main hall and an impressive 5 storied pagoda. The Asakusa shrine can be found a few metres to the left of the temple's main building. Sensō-ji is without a doubt one of the best places to visit in Tokyo.
4. Disneyland & DisneySea
If you're searching for one of the best places to visit and things to do with kids in Toko, Disneyland needs to be at the top of your list. Packed with 7-themed lands, it offers fun attractions and wonderful entertainment along with restaurants and shopping areas. DisneySea is a fantasy theme park in Tokyo Disney Resort and is heavily inspired by the myths and legends of the sea.
5. Imperial Palace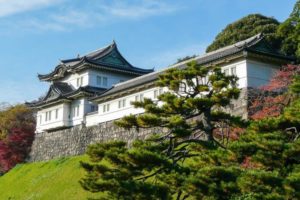 Built on the site of the old Edo Castle, Tokyo Imperial Palace is the main residence of the Emperor of Japan. At some point during World War II the palace was destroyed but was later rebuilt in the same way. Nijubashi Bridge leading to its interior is another famous sight at the Imperial palace which was formerly a wooden bridge with two levels hence its name Double Bridge. Usually the inner grounds of the palace are not open to the public, however, on January 2nd and 23rd February (Emperor's birthday) visitors are allowed in to see the Imperial Family who make appearances on the balcony.
6. Meiji Jingu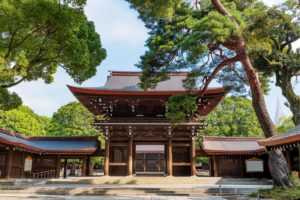 Meiji Jingū is a lovely shrine surrounded by a 175-acre evergreen forest. It was compleed and dedicated to Emperor Meiji and his consort, Empress Shoken in 1920 after their death. Though the shrine was destroyed during World War II it was built again in 1958. A trip to the calm yet beautiful Meiji Jingu offers a much needed break from Tokyo's busy streets. Since it's one of the most important Shinto Shrines in the city, it's also a popular venue for traditional Shinto weddings.
7. Ueno Park
Ueno Park is one of the largest parks in Tokyo and houses the famous Ueno zoo which is Japan's oldest zoo and is popular for its pandas. The best things to do in Ueno Park include admiring the cherry blossoms, visiting museums such as Tokyo National Museum, the National Museum for Western Art, the Tokyo Metropolitan Art Museum and the National Science Museum.
8. Tokyo National Museum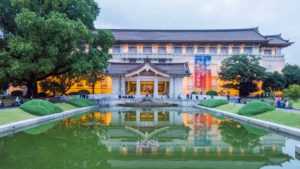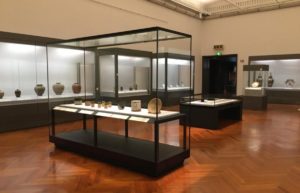 Built in Yushima Seido Shrine in 1872 before moving to Ueno Park, Tokyo National Museum is the oldest and largest museum in Japan. Tokyo National Museum is praised for being home to one of the largest and best collections of art and archeological artifacts in Japan. At the museum, you'll find over 100,00 individual items with about 100 of them being national treasures. The large museum building has 6 separate buildings namely Hyokeikan, Toyokan, Heiseikan, Honkan, Horyuji Homotsukan and Kuroda Memorial Hall.
9. Shibuya
No other place will give a better representation of the vibrant and bustling nature of Tokyo the way Shibuya will. Filled with dining spots, shopping places and lively nightclubs Shibuya is a must-visit place in Tokyo. Shibuya is denoted by its crosswalk called Shibuya Crossing which is known for being the busiest scramble crossing in the world with an astonishing 3,000 people crossing it at a single time at the peak of rush hour.
10. Odaiba
Situated in South Tokyo, Odaiba is a popular shopping and entertainment district on a man-made island in Tokyo Bay. The island is a perfect spot for parties, cruises, fine dining and shopping. One of the main attractions here is the replica Statue of Liberty and Rainbow Bridge. An evening bayside stroll while admiring the lit Rainbow Bridge makes Odiaba one of the best places to visit in Tokyo for lovers.