Most people think they've seen it all in regards to islands. What if I told you there are thousands of insanely gorgeous islands you've probably never heard of. No, they don't include, the Maldives, Bora Bora, Bali, Santorini, and Seychelles. We all dream of a charming island vacation but sadly many destinations have lost their glamour and appeal due to how mainstream and crowded they are. You'll love these stunning islands that are less known, favored with reduced crowds, amazing views and are surprisingly very cheap.
i) Ranguana Caye, Belize
Found about 20 miles west of Placencia, this two-acre private island is a must-see when in Belize. Those who've been there say it has beautiful blue water, taller palm trees and softer sand compared to neighboring islands. Ranguana Caye has 3 rustic cabanas for guests who wish to stay overnight and a beach bar. Fishing, snorkeling and trips to coral reefs are the most popular activities here though it still has more to offer. There are a few notable attractions nearby like the Placencia Mangroves, Bocawina Falls, Gulisi Garifuna Museum and Rosalie's Tortilla Factory to add to your itinerary.
ii) Little Cayman, Cayman Islands
Little Cayman is the tiniest island in the Cayman Islands found in the Caribbean. Its remote location means the 10- mile long and 1-mile wide island offers stunning views with equal amounts of serenity. As you walk or bike up and down the shore, you'll enjoy the glorious sounds of nature and breathtaking sights. Make your way to South Hole Sound Lagoon for a refreshing swim in its water with different shades of blue. A kayak away off the Little Cayman coast lies the amazing Owen Island or you could row into the unofficial fourth island in Cayman. Bloody Bay Wall Marine Park is close and tourists can view the island's native sharks, turtles and stingrays.
iii) The Whitsunday Islands in Australia
Whitsunday Islands is a group of 74 heavenly islands that lie between the northeast coast of Queensland, Australia and the Great Barrier Reef. The breathtaking islands are the perfect spot to walk barefoot on refined white sandy beaches at the edge of lovely turquoise waters, catch sight of whales and swim with turtles. Popular activities on the island include a visit to the alluring Whitehaven Beach, a nearby beach whose moving sand turns the sea into a whirlpool of a beautiful green and blue colour. Most people also like to go snorkelling at the Great Barrier Reef and sailing around the nearby islands. This group of charming islands mean you have a range of amazing islands to choose from.
iv) Yasawa Islands, Fiji
It's not a secret that Fiji is home to some of the most stunning islands in the world. Yasawa is a series of 20 volcanic islands in northwestern Fiji. The magnificent Yasawa islands are packed with incredible hotels and resorts with unique perks that enhance tourist experience. Spectacular views aside, the island offers thrilling experiences for tourists. For starters, a trip to the Sawa-i-Lau caves, prehistoric limestone formations surrounded by dazzling saltwater pools, is a must anytime you visit. The island also offers you a chance to tick off swimming with manta rays off your bucket list, but go between May and October for the best experience. Other ways you can explore these series of incredible islands is through hiking, on a cruise ship or from seaplanes and helicopters.
v) Anambas Islands, Indonesia
A few years ago, Anambas Island Regency, a tiny Indonesian archipelago nestled in the northeast of Batam Island in the North Natuna Sea was named Asia's best tropical island. The main islands here are Siantan, Matak, Mubur, Jemaja and Kiabu. Additionally, the area is filled with many wonderful lagoons mostly found in the islands of Pulau Bawah, Pulau Rongkat and Pantai Selat Rangsat. Given the number of islands in the region, you have an unmissable chance to discover unchartered territory. It is unheard of to visit the islands and not visit Temburun waterfall, a multi-layered waterfall. Anambas island is laced with bucket list-worthy affordable resorts guaranteed to leave you spoilt for choice.
vi) Guana Islands, British Virgin Islands
Guana Island comprises of 7 angelic powder-sand beaches next to acres of tropical forests, wonderful hills, mountains and valleys. The island has a few luxury resorts to choose from or if you are able to bring about 40 friends, you can rent the whole island. Apart from the beautiful beaches and panoramic views the island exudes, there are a few fun things that can be done here. Activities offered here include kayaking, snorkelling, sailing and hiking its scenic trails.
vii) Andros Island, The Bahamas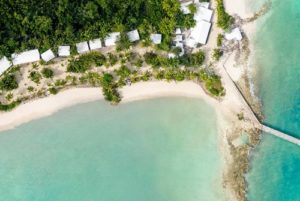 Andros Island, despite being the largest, is regarded The Bahamas best kept secret as it's lesser-known compared to its other islands. Andros island is divided into 3 major islands named North Andros, Mangrove Cay and South Andros. In spite of having a large number of smaller cay and inlets, plenty of creeks and tropical forests, Andros still has vast white sandy beaches, a refreshing breeze and beautiful blue water. At Andros you get a one of a kind opportunity to be in awe of its unique blue holes, swim with tropical fish and hike through its fascinating tropical forest.
viii) Koh Rong, Cambodia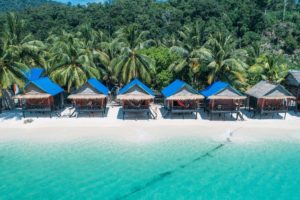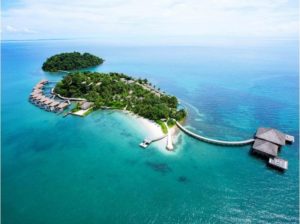 Koh Rong is a group of 23 stunning islands in the Sihanoukville province of Cambodia. Often tourists have confused Koh Rong with the nearby Koh Rong Sanloem. Though they both have amazing beaches with luxury resorts, they are very different so be sure to confirm the exact location you'd like to go to. Due to its breathtaking views, beautiful white beaches and enviable climate, Koh Rong is said to be a tropical paradise cut above the rest. Aesthetics aside, the island offersa variety of fun activities like fishing and scuba diving. It's important to note that Koh Rong is still developing so the available amenities are very basic and many conveniences won't be available.
ix) Paros, Greece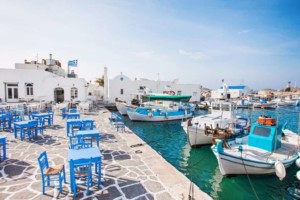 As a country with lots of amazing places, Paros is considered a hidden gem. While many flock in Santorini and Mykonos, Paros goes unnoticed but it's slowly winning the hearts of many travel lovers. What I love most about Paros is it's versatility, there's literally an activity for everyone. It has a terrific night life, mouthwatering dishes, delicious local wine, eyecatching traditional architecture and fun sports activities. It offers a lovely blend between a romantic getaway and a chilled family vacation. As if all these isn't enough, it's very affordable. When making your Paros travel itinerary remember to include a visit to Parikia, Paros Park and Panagia Ekatontapiliani.
x) Isla Holbox, Mexico
Isla Holbox is a small lesser-known island that sits north of the Mexican Caribbean. If you are a lover of outdoor activities, this island is the perfect fit for you. Some of the activities you can enjoy doing here include visiting Punta Mosquito. Punta Mosquito is a nearby white sandy beach, with crystal clear shallow waters full of swimming turtles. Visit Cabo Catoche, a beautiful reef with turtles and mangrove forests. There's an endless list of places to visit and activities to be done on this island. It is no surprise Isla Hoblox is gaining more popularity among tourists.