Thailand, the land of smiles, is famous for its breathtaking beaches, and captivating history as depicted by its ancient ruins, temples, and majestic royal palaces. There are many amazing things to do in Thailand and it's no surprise it's at the top many travel bucket lists. Whether you prefer cityscapes, relaxing in tropical beaches or discovering fascinating bits of culture and history, the Land of Smiles has it all. Additionally, there are some amazing Thailand Packages to help you plan a perfect trip.
1. Bangkok
Bangkok, Thailand's bustling capital is the perfect place to start off your trip as it encompasses all things Thailand. This vibrant city gives you an insight into the country's culture and history through famous temples and palaces like The Grand Palace, Wat Pho, and Wat Arun. It also provides a beautiful blend of charm and chaos through its traditional floating markets, Chatuchak Market – one of the world's largest outdoor markets, towering skyscrapers, high-end restaurants, mouthwatering street food and streets lined with vendors and hawkers. If you are big on nightlife, Bangkok has buzzing nightclubs, rooftop bars and plenty of live music joints. If you're planning a trip, check out these Bangkok Packages.
2. Chiang Mai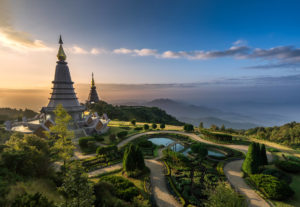 Chiang Mai is a scenic mountainous city in North Thailand that delivers a different experience from that of Bangkok. Known for its laid-back vibes, Chiang Mai has beautiful landscapes and lush jungles that make it a good spot for hill trekking. It's also home to many well-known temples like Wat Phra That Doi Suthep, Wat Chedi Luang, Wat Chiang Man and Wat Phra Singh. While there, discover Warorot Market and Chiang Mai night bazaar which are a shopper's paradise. Lastly, spare time to visit Chiang Mai Zoo and Doi Inthanon National Park.
3. Phuket
Situated in south of Thailand in the Andaman Sea, Phuket is the largest island in Thailand and has the most visited beaches. If you favor serene and tranquil islands, Nai Harn beach and Kata beach are the best pick but if you would rather have a buzzing nightlife experience, head over to Patong beach. Fun things to do in Phuket are scuba diving, jungle trekking, zip lining, and exploring Phuket town. Phang Nga Bay is another amazing island that deserves a spot on your Phuket itinerary.
4. Ayutthaya
About 80 kilometers north of Bangkok lies Ayutthaya, an ancient city and a UNESCO world heritage site. Tourists who enjoy traveling for history and culture will relish a tour of this city and even those that aren't big on history have not been disappointed. Ayutthaya historical park is spread over 15 sites and has 6 main temples namely: Wat Mahathat, Wat Ratchaburana, Wat Phra Si Sanphet, Wat Phra Ram, Wat Chaiwatthanaram and Wat Maheyong. Other must-visit sights in Ayutthaya include Bang Pa-In Palace, Ayothaya floating market and the Rabbit Water Park.
5. Koh Samui
Koh Samui located in the Gulf of Thailand is the second largest island in Thailand. Koh Samui went from being a lesser-known island, to one of the most visited places in Thailand. Some of the most beautiful beaches here are Lamai beach, Maenam beach, Bo Phut beach, Chaweng beach and Choengmon beach. Apart from the stunning palm-fringed beaches and lush rainforests, there are attractions like the Big Buddha Temple, Paradise Park, Na Mueang Waterfall that are also worth visiting. Koh Samui is without a doubt one of the best places to visit in Thailand.
6. Pattaya
Formerly a quiet fishing village, Pattaya has in recent times evolved into Thailand's sin city as it's a meeing point for people who want a good time and experience the city's crazy nightlife. It's about 100 miles from Bangkok and being the closest major beach destination it attracts a sea of tourists. The best things to do in Pattaya include visiting the Sanctuary of Truth Museum, shopping at Pattaya Floating Market, exploring the Walking Street, enjoying a day at Ramayana Water Park or just soaking in the sun at Pattaya Beach.
7. Phi Phi Islands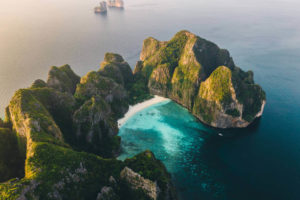 Koh Phi Phi an archipelago in Thailand between Phuket and the straits of Malacca coast of Thailand is one of the most beautiful places to visit in Thailand. It's made up of 2 major islands, the first one is Koh Phi Phi Don, the largest one and the most vibrant, and Koh Phi Phi Leh where we find Maya Bay and is mostly uninhabited. There are many fun things to do in Koh Phi Phi like rock climbing, scuba diving, snorkeling, padddleboarding and skiing. This stunner is a unique place to visit in Thailand.
8. Koh Chang
Also known as Elephant Island, Koh Chong is known for lush tropical jungles, pristine beaches, gushing waterfalls and awe-inspiring views. It's the perfect destination for a backpacker and all adventure lovers as it offers great hiking trails. Top sights in Ko Chang are Lonely Beach, Ko Wai, White Sand beach, Klong Prao beach, Than Mayom waterfall, Mu Koh Chang National Park, Kaibae beach and Cape Chei Chet. If you were wondering whether Koh Chong is worth it, yes, Koh Chong is absolutely worth visiting.
9. Pai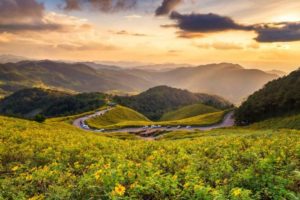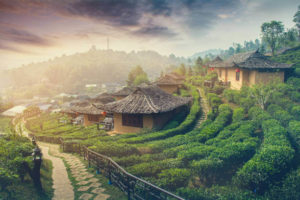 Pai is a small town nestled between Chiang Mai and Mae Hong Soon and sits in a valley on the banks of the Pai river surrounded by soaring mountains. It's every adventure lover, hiker and backpacker's dream as its adorned with wonderful waterfalls, evergreen fields and scenic trails. The best places to explore here include Tha Pai Hot Springs, Pai canyon, Pai land split, Pai Night Market, Santichon Village and Wat Luang. As one of the best places to visit in Mae Hong Soon Province, Pai is for sure a must visit.
10. Khao Yai National Park
Not too far from Bangkok, Khao Yai is regarded as Thailand's most impressive wildlife haven and one of the most beautiful parks to visit in Thailand. Additionally, Khao Yai is the oldest and most visited national park in Thailand. This UNESCO World Heritage site is famous for its evergreen rainforests, incredible waterfalls, rippling mountains, exotic bird species and a large population of wild elephants. It has lots of hiking trails that give you a chance to enjoy stunning views and spots various types of wildlife.