1. Lake Macdonell, Australia
This stunning pink salt lake lies 15km from the town of Penong, South Australia. "Why is Lake Macdonnell pink?" people often ask. The pink color is caused by salt-loving algae and bacteria that emit carotenoid red pigments that turn the water bright pink. The water isn't always pink so take into consideration the time of the year before visiting, spring and summer should be fine. Watermelon avenue is the picturesque road that separates the pink Lake Macdonnell and the nearby blue-green waterscape.
2. Antelope Canyon, Arizona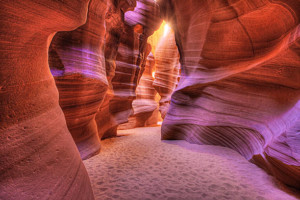 Antelope Canyon is an incredible slot canyon on Navajo land east of Page in Arizona. It came about through years of persistent forces of water and wind which then resulted in the structures we have now. This magnificent geological formation is made of two separate canyons, known as the Upper Antelope Canyon and Lower Antelope Canyon. Though it has no stairs, the Upper Antelope Canyon is the most accessible. Views in the Lower Antelope Canyon constantly change due to the sun's movements altering the color of its walls, no wonder it's a gathering place for photographers and tourists. Many prefer going to the Lower Antelope Canyon because it has fewer people and although dramatic, it has stairs.
3. Lavender Fields in the Summer
You are able to see lavender blooms almost all year round regardless of where you live because lavenders generally have different blooming times. Some of the best locations to enjoy lavenders include Provence in France, Purple Haze Lavender Farm in Washington, Hvar Island in Croatia, Bridestowe in Australia, Lavender Valley in Oregon, Mayfield Lavender in Sutton, Tomita Farm in Japan and Bulgaria. Luckily, most lavender farms have nearby stores where you can buy lavender-infused cakes, oils jams, and other cool stuff or you can just go and have a look around.
4. Vatnajökull Glacier, Iceland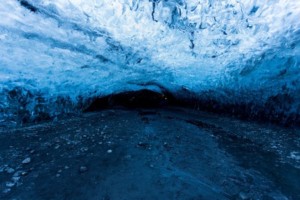 Vatnajökull glacier is not only the largest glacier in Europe covering about 8,100 km, it's also the central feature of Vatnajökull National Park in Iceland. The glacier boasts the tallest peak beneath its ice in Iceland and has an outstanding 30+ outlet glaciers that flow out of ice caps but still stay on the valley's sides. Impressively, quite a few rivers flow from Vatnajökull's meltwaters adding to the vast number of glacial rivers in Iceland. The most popular activities here are glacier hiking and ice caving. During summer, you are able to go on a glacier lagoon boat ride.
5. The Northern Lights
Observing the northern lights is an experience you must have at least once and needs a place on your travel bucket list. Aurora Borealis or northern lights is the magical outcome of collisions between gaseous particles in the magnetosphere caused by solar wind. They mostly occur in high latitude regions that are close to the Arctic Circle the best viewing places being in Norway, Iceland, Alaska, Sweden, Finland, Greenland and Canada. Due to the increasing number of people going to see the northern lights, unique accommodations like glass igloos have been built to facilitate easy viewing. Be sure to time our trip during the new moon to increase your chances of seeing the stunning lights.
6. Grand Prismatic Spring, Yellowstone National Park, USA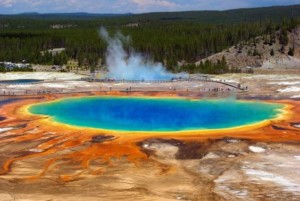 The sequence of its colours that are akin to that of a rainbow is where the Grand Prismatic Spring gets its name. The 160 ft deep hot spring is found in the Midway Geyser Basin in Yellowstone National Park and is the largest in the US and 3rd largest in the world. The Grand Prismatic Spring gets its unique colours from different species of heat-loving bacteria that live in the cooler zones of water around the spring. Spectacularly, the high temperatures in the middle of the spring keep the water sterile meaning it stays blue throughout. Remember, the hot spring is not a big natural hot tub so be careful not to get off the boardwalk or jump in.
7. Lake Natron, Tanzania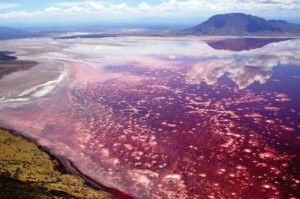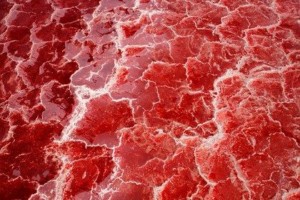 This mineral-rich soda lake is a must-visit anytime you go to Tanzania. Lake Natron is a salt lake meaning that water only flows in and not out and evaporation is the only way water can escape. The most fascinating fact about this lake is it's said to have turned wildlife to stone. Animals are attracted to its colour and dive in. They drown and their bodies get calcified due to its high alkaline nature caused by high levels of natron (a mix of sodium carbonate and baking soda). The lake's unique red colour comes from salt-loving halophilic microorganisms known as cyanobacteria. Despite the water's contents, it's home to many flamingo species.
8. Mu Chang Chai Rice Terrace, Vietnam
Very few rice fields if any look as spectacular as the Mu Chang Chai Rice Terraces. These magnificent rice terraces are found in the mountainous district of Yen Bai province in the Northwest region of Vietnam. Here you can experience scenic mountainous views, incredible rice terraces and the captivating life of the different ethnic groups in the rural tribe. The best time to visit is during summer when the ripening rice stems cover the hills in a vibrant green colour or early autumn when they are golden yellow and ready for harvest.
9. Vinicunca Rainbow Mountain, Peru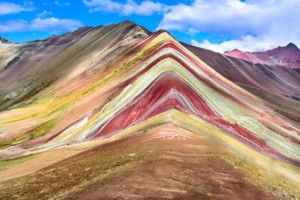 Rainbow mountain is an example of beauty and it's no surprise it is a popular tourist attraction in Peru alongside Machu Picchu. Vinicunca or Winikunka gets the name rainbow mountain from its colourful layers that formed through weathering and mineral deposits. When planning a trip, choose a time when there's no rain or snow because these adverse conditions make hiking to the mountain harder and the coloured layers appear dull.
10. Marble Caves, Chile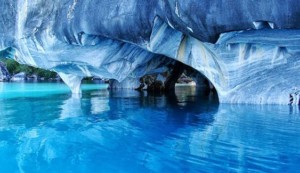 The Marble Caves are the magnificent aftermath of water eroding calcium carbonate cliffs producing these fascinating cave systems. Also known as Capillas de Mármol, the gorgeous blue and grey marble caves are nestled at the heart of the turquoise waters of General Carrera Lake in southern Chile. You can either take a boat or kayak to visit these extraordinary caves. Not too far from the caves are the incredible San Rafael and Exploradores glaciers in the region of Aysen.
11.Namib Sand Dunes, Namibia
Namib sand dunes in Namibia are one of the coolest natural treasures in the world. When you think of the Namib sand dunes you're probably referring to Sossuvlei, its red sand, white pan and blue sky make it an attraction you must visit. Though it's not the highest, the most popular sand dune is Big Daddy. The main reason why tourists like to climb Big Daddy is it overlooks the unreal landscape of Dead Vlei, a white pan with dark fossils of camelthorn trees. The best time to hike the sand dunes is early in the morning when the rising sun paints one side red covering the other in a shadow creating a picturesque sight.
12. Siwa Salt Lakes, Egypt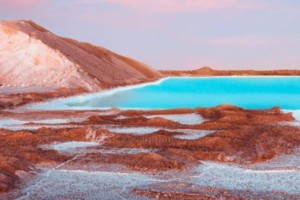 At the base of a mountain in Siwa, lies the stunning crystal blue waters of Lake Zeitoun surrounded by salt clusters. Not only is the water amazingly clear, but you also can't drown due to the high levels of natural salt in it. Another popular salt lake is Maraqi Lake which has the highest salt concentration. Besides relaxation, Siwa salt lakes are said to have healing properties and can be used for the treatment of skin, eye and sinus problems.
13. Sea Sparkle, Australia
Of all the stunning sights the world has to offer, the sea sparkle is by far the most alluring. The mysterious yet beautiful ocean wonder is created by a natural chemical process called bioluminescence, a process where a living thing emits light from its body. Many marine creatures light up to lure potential mates, attract prey or confuse predators. These magical lights can be witnessed across Australia but it's not the only place where the ocean glows. You can also see the sea spark in Luminous lagoon in Jamaica, Mosquito Bay in Puerto Rico, Halong Bay in Vietnam, Ton Sai in Thailand and many others.
14. Seven Coloured Earths, Chamarel, Mauritius
Terres des sept couleurs or the seven-colored earths is a unique natural wonder in Mauritius and one of its most iconic attractions. This rare geographical feature was created by the conversion of basaltic lava to clay minerals. It has 7 distinct colours purple, blue, yellow, violet, brown, green and red. The land is however protected by a fence denying access to tourists with the aim of protecting and conserving it. Don't worry, you are still able to see it and shops at the site sell small samples of the soil if you want a souvenir. As if the Chamarel seven coloured earths isn't stunning enough, nearby you find the beautiful Chamarel waterfall.
15. Tulip Fields, Netherlands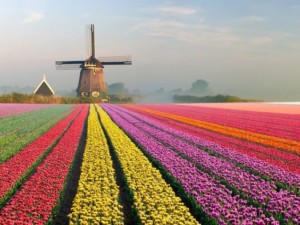 Around late April and early May is the best time to see the precious tulips burst into a colourful full bloom. There are many charming tulip fields spread out across the Netherlands the most famous one being Keukenhof that has millions of flower bulbs. Other less popular but enchanting nonetheless fields are found in Amsterdam, Noordoostpolder, Lisse, Schagerbrug and Noordwijkerhout. A visit to any of these tulip fields should be on your itinerary anytime you visit Holland. Don't miss a chance to take in the view of the gorgeous colourful fields.
16. Arashiyama Bamboo Forest, Kyoto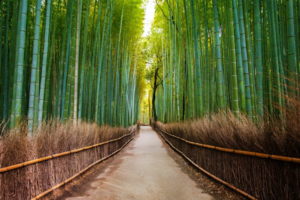 Though it's one of the most photographed attractions in Kyoto, none really does this extraordinary sight justice. This one-of-a-kind bamboo path in Arashiyama is 500 meters long but there are many bicycle rental shops within walking distance of Hankyu Arashiyama Station. If you get tired or change your mind mid-stroll, there's even a rental shop in the forest. It is close to Tenryū-ji Temple and Nonomiya Shrine which are other popular tourist spots.