Amsterdam, Netherlands' capital is one of the most beautiful cities in Europe and also one of the most visited. This lovely city is a popular tourist destination famous for rich history, picturesque winding canals, amazing museums, wonderful culture and incredible nightlife. There are limitless things to do in Amsterdam, however, below is a list of 10 unmissable locations in Amsterdam to answer your where to visit in Amsterdam question.
1. Rijksmuseum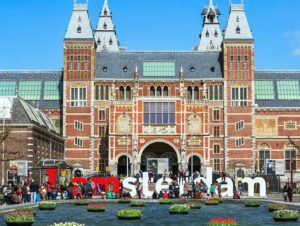 Located at the museum square close to Van Gogh Museum, Stedelijk Museum Amsterdam, and the Concertgebouw lies Rijkmuseum. Rijkmuseum was founded in 1798 in The Hague before moving to Amsterdam in 1808. Its main function is to house the art and history of Amsterdam. Among the surplus of 8,000 objects of art and history on display, work from famous painters like Rembrandt, Frans Hals and Vermeer are on show. Additionally, there are around 250 rooms and a massive library with over 35,000 books and manucripts.
2. Anne Frank House
The Anne Frank House stands in Central Amsterdam on a canal called the Prinsengracht that's close to the Westerkerk. Anne Frank was a Jewish girl who hid for 2 years with her family from Nazi prosecution during World War II. Unfortunately, she didn't survive but she left behind her diary, published as The Diary of a Young Girl in 1947. The house where she stayed has now been converted into a museum that showcases her life during the difficult time. In the house, you'll see the actual diary and the tiny attic where she hid.
3. Van Gogh Museum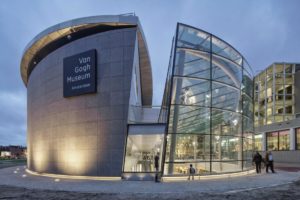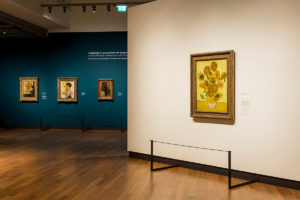 It's unheard of to go to Amsterdam and not explore amazing art at the Van Gogh Museum. As its name suggests, the museum is dedicated to the works of the great Dutch painter Vincent Van Gogh. Van Gogh's tragic life and exceptional artistry make it a must-visit museum with 200 of his paintings, 500 drawings and 700 letters on display. Work of other painters like on Monet, Gauguin and Seurat are also on show at the museum.
4. Vondelpark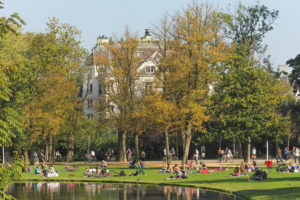 Vondelpark is the largest and possibly Amsterdam's most popular park named after playwright and poet Joost van den Vondel. This public urban park covers 120 acres and has an endless array of activities for its 10 million annual visitors. In the park, you'll come across a skate rental, Vondelpark Open Air Theater, a playground and many cafeterias. Generally, the park is a calm place where people can cycle, jog, walk their dog, read a book or listen to music.
5. Royal Palace of Amsterdam
The Royal Palace of Amsterdam found in Dam Square is one of only 3 places in the Netherlands that are at the disposal of the monarch by Act of Parliament. The palace was initially built as a city hall during the Dutch Golden Age then later became the royal palace of King Louis Napoleon and later of the Dutch Royal House. Majority of the important rooms are open to the public giving visitors a chance to enjoy its outstanding architecture and intriguing history.
6. Rembrandt House Museum
Rembrandt House Museum is one of the best places to visit in Amsterdam and an ideal destination for art enthusiasts. This is where painter Rembrandt lived and worked from 1639 to 1656 when he went bankrupt and had all his belongings auctioned. The interior has been furnished to mirror the style of a 17th century home and it features some of the great works of his time along with contemporary art pieces.
7. The Jordaan
Jordaan is a popular neighborhood famous for its canals and part of the must-visit places in Amsterdam. While walking through Jordaan, you'll see many eateries, pubs, antique shops and art galleries. It was formerly a district of the working class but its now a busy, expensive and upscale location. It's also where the Anne Frank House is located.
8. Dam Square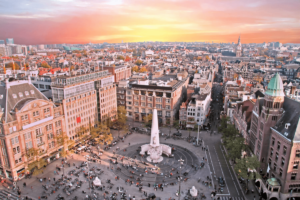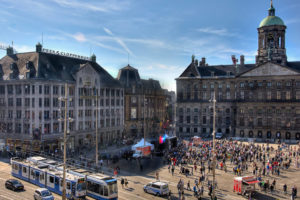 One of the famous places in Amsterdam, Dam square, is said to be the city's center point. This town square is always bustling and full of tourists who come to see the Royal Palace, Nieuwe Kerk (new church), the National Memorial Statue and Madame Tussauds wax museum. Attractions aside, restaurants, shops, food and souvenir vendors are also present. A ferris wheel and street performers are a huge source of entertainment at Dam Square.
9. Artis: Amsterdam Royal Zoo
Founded in 1838, Artis is one of the oldest zoos in Europe but still an amazing zoo after all those years. There's an impressive range of creatures including 700 animal species and 200 tree varieties, many on the verge of extinction in their garden setting adorned with other historical buildings. Spots to explore here are the nocturnal animal house, Butterfly Pavilion, Planetarium, zoological museum and Insectarium.
10. Oude Kerk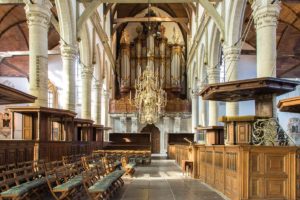 If you are wondering where to go to in amsterdam, Oude Kerk is a place you should add to your itinerary. Oude Kerk translating to old church is Amsterdam's oldest building and one of the most quiet and peaceful places to visit in Amsterdam. Some famous graves can be found here as well. Located in the Red Light District of Amsterdam, this wonderful church has a captivating history from its conversion from a Roman Catholic Church to a Calvinist Church. Currently, it's functioning as a centre for contemporary art and heritage.