Italy, already favored with the most picturesque locations and fascinating must-visit attractions still takes pride in having the most charming seaside towns. From the vibrant hilltop houses overlooking the captivating blue sea to the pristine beaches with delightful views, it won't be an exaggeration to say these are some of the most beautiful places on earth.
1. Amalfi Coast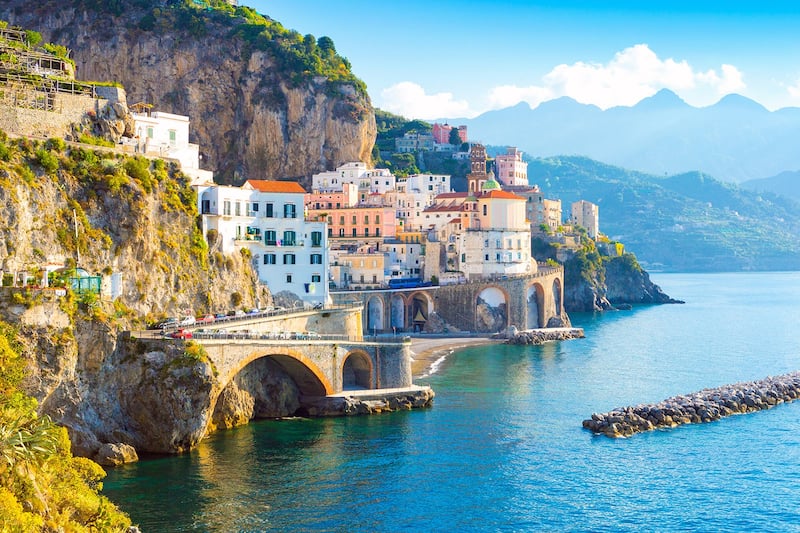 Overlooking the alluring turquoise Tyrrhenian Sea and the Gulf of Salerno, the cosmopolitan Almafi coast is a stretch of coastline found in the Southern part of Italy. A vibrant place often deemed as heaven on earth due to its beautifully colored houses, charming azure sea, impressive landscapes, perfect weather and enchanting views. This stunning coast is located in the attractive Campania region covering about 34 miles and has 13 seaside towns that are all popular tourist destinations.
2. Positano, Campania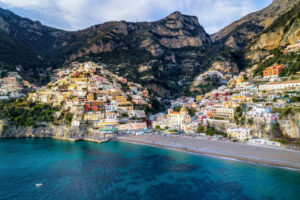 Positano is one of the most famous and arguably the most beautiful town on the Almafi Coast. Perched on the side of a hill, Positano is favored with brilliant pastel-colored houses and picturesque beaches like Fornillo, Laurito and Spiaggia Grande. Despite being a photographer's paradise some of the best things to do in Positano include visiting the Church of Santa Maria Assunta, hike to Montepertuso, take a night stroll, try delicious Italian delicacies and walking the Path of the Gods.
3. Portofino, Liguria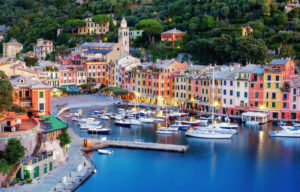 Portofino has recently been regarded as a haven for the rich and famous due to the luxurious super yachts floating on the nearby semi-circular harbor. Its insanely beautiful colored houses are lined on a shore in the Genoa province on the Ligurian coast. Apart from admiring the radiant houses, you can visit the Brown Castle, the San Martino Church or walk up the hill to reach the lighthouse. If you prefer more relaxed activities you can go shopping, relax at Paraggi Beach or sit in Piazzetta and enjoy local delicacies.
4. Venice
An outstanding coastal city built on 117 small but attractive islands. What's even more fascinating is these charming islands are so close that 400 bridges connect the canals between them. These lively networks of canals have small boats that serve as the main transport system. Things to do in Venice include discovering its main attractions like St. Mark's Basilica, St. Mark's Square, Grand Canal, Rialto Bridge, Doge's Palace and Burano. This photogenic gem is the ideal spot for a perfect Italian holiday.
5. Manarola, Liguria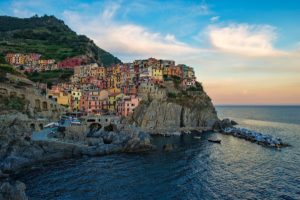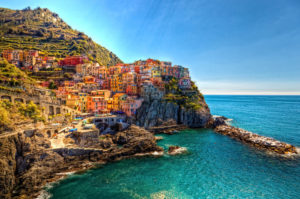 A vibrant cliffside village and part of a spectacular group of 5 villages that make up the Cinque Terre National Park. Additionally, it's packed with fresh vineyards that make wine-making and wine-tasting a popular activity here, the sweet Schiacchetrà wine is definitely a must try. Fun things to do here are visiting the church of San Lorenzo, hanging out in the Marina, exploring the old town, and hiking the blue trail. Manarola is without a doubt one of the most beautiful coastal town in Italy.
6. Sorrento, Campania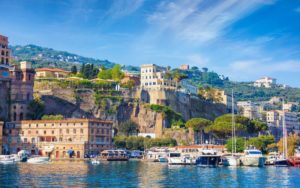 The lack of a beach is made up for by the breathtaking views on display in Sorrento. Sorrento is a picturesque town overlooking Naples Bay and its not only one of the most popular tourist spots but its also one of the most romantic towns in Southern Italy. Adorned with lush citric groves, scenic valleys and a fascinating landscape that brings it all together, Sorrento is a must-visit. Some posh activities done here are sipping on a good wine in Piazzo Tasso, taking a ferry to Capri, dining at O'Parrucchiano and enjoy gelato at Gelateria Davide.
7. Polignano a Mare, Puglia
Located on the Adriatic Sea, Polignano a Mare enjoys pristine beaches, turquoise waters, and rugged landscapes with minimalistic design houses. Beauty aside, it's location has made it a popular cliff diving spot and has even held the famous Red Bull diving competition. Found in the city of Bari, this masterpiece is loaded with lots of things to see and do like exploring the historic center, appreciating the beauty of Ponte Lama Monachile and visiting the beach.
8. Riomaggiore, Liguria
Home to rugged landscapes and brilliantly colored buildings that face the inspiring blue waters of the Gulf of Genoa, Riomaggiore is a part of the elite list of villages that make up Cinque Terre. The famed Via Dell'Amore or the Path of Love begins here with the Sentiero Azzurro or Blue Path. Other things to do in Riomaggiore are visiting the Castello di Riomaggiore and Church of San Giovanni Battista, hiking to the sanctuary of Montenero or even kayaking and scuba diving.
9. Vernazza, Cinque Terre
Magazine cover worthy is not enough to describe Vernazza's beauty. Vernazza is one of the most beautiful places in Northern Italy and part of the breathtaking villages that make up the incredible Cinque Terre. It not only boasts stunning multi-coloured pastel buildings but is also the only natural port of Cinque Terre. A visit to the Doria Castle, Church of Santa Margherita and the Sanctuary of Madonna di Reggio is a must when in Vernazza. If those don't excite you, try swimming at Vernazza beach and feasting on mouthwatering seafood at Belforte.
10. Scilla, Calabria
Scilla's lesser-known nature is the most impressive part about as it as it's not flooded with tourists like other coastal towns. Loaded with postcard-worthy beaches, scenic landscapes and vibrant houses, Scilla is the place to be. It's perfectly located next to the Tyrrhenian Sea which has made it a prominent fishing village and the town is lined with multiple places to enjoy seafood. Further, there's a lot to discover here. Scilla is without a doubt one of the prettiest places to visit in Calabria.
11. Cefalù, Sicily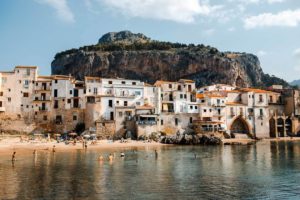 Lying on the incredible Tyrrhenian coast, Cefalù though tiny is a popular tourist attraction in Sicily. Rich in history and dramatic landscapes, idyllic weather, stunning beaches, luxurious restaurants and a bustling nightlife, Cefalù is clearly one of the best. Don't leave Cefalù without visiting Norman Cathedral, a fotress with 2 twin towers and the town's most famous attraction. Corso Ruggero, the main street of the town that divides it into 2 exact halves is also a must-see when there.
12. Camogli, Liguria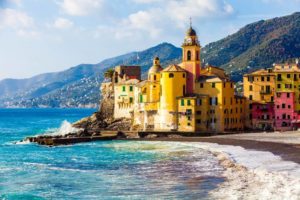 Camogli is a magnificent village well placed on the Golfo Paradiso with splendidly coloured houses. It's lesser known compared to other towns in Northern Italy which means all its beauty is still unspoiled. Aesthetics aside, Camogli has many lovely restaurants along its seafront that serve delicious local food. Numerous hiking trails with alluring views offer a good pass time for tourists who do not prefer going on boat excursions. Camogli is undoubtedly one of the most beautiful coastal towns.
13. Praiano, Campania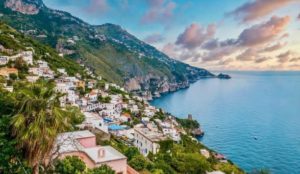 A fascinating cliffside cluster of colorful buildings on the gorgeous Almafi Coast, Praiano is a stunner superbly placed between Positano and Amalfi. Amongst all the towns that make up the Amalfi Coast, Praiano's biggest asset is its favored with less crowds which makes it easy to explore. The best things to do here include visiting the Church of San Gennaro, basking in Marina di Praia beach, going to Capri Island and hiking the footpath of the gods that has the most beautiful views.
14. Levanzo, Sicily
Levanzo is the tiniest of the 3 main islands that make up the Aegadian Islands that lie off Sicily's western coast. Denoted by a little cluster of pale square buildings overlooking the wonderful blue water, Levanzo is one of the most breathtaking coastal towns in Italy. Its main attraction is the Grotta del Genovese which displays prehistoric art. However, many prefer enjoying time at the beach soaking in the sun, swimming in the warm waters, and taking in the panoramic views.