Malaysia is an amazing Southeast Asian country often describes as a pot that mixes multiple flavors owing to the different languages and cultures that beautifully coexist here. Sitting right at the top of many travel bucket lists, Malaysia gives you an unmissable chance to enjoy pristine beaches, contemporary skyscrapers, colonial architecture, and diverse landscapes. If you're looking for where to go in Malaysia, here's a list of the best places to visit in Malaysia.
1. Kuala Lumpur
Kuala Lumpur is not only Malaysia's capital and largest city, but it's also one of the most visited cities in the world. This bustling capital is mostly known for the exemplary Petronas Twin Towers, attractions aside, it's one of the best shopping destinations in Southeast Asia. Additionally, Kuala Lumpur is loaded with intriguing museums, fine-dining restaurants and colonial buildings. Some top tourist attractions in Kuala Lumpur are Batu Caves, Chinatown, Bukit Bintang, Sunway Lagoon Theme Park and Bukit Gambang Water Park.
2. George Town
Regarded as the food capital of Malaysia, George Town a UNESCO World Heritage site found on the island of Penang is a foodie's dream. Packed with murals, street art and traditional shophouses, George Town feels like you're walking into a museum. The best things to do in George Town include exploring street art, tasting their street foods, visiting the Kek Lok Si Temple, Fort Cornwallis and The Blue Mansion.
3. The Perhentian Islands
Perhentian Islands made of seven postcard-worthy islands are one of the most beautiful islands in Malaysia. The two main islands are Perhentian Kecil the smaller island adorned with breathtaking views and a bustling nightlife. Perhentian Besar is the bigger island that gives off calm vibes and is ideal for couples and families. While there you can do fun activities like snorkeling, scuba diving and kayaking. Many people have also enjoyed jungle trekking through the nearby islands. However, you can't access the islands between November and March because of the monsoon.
4. Malacca
Best explored on foot, Malacca or Melaka is home to colorful heritage buildings and Peranakan architecture. Malacca's amazing waterfront is unsurprisingly the city's main sight and is stacked with attractions, entertainment spots and bustling cafes. You have to visit Stadthuys, a famous square with red colored structures in the Dutch colonial style. Other amazing places to visit in Malacca are Famosa Fort, St Paul's Church, Jonker Street, Baba and Nyonya Heritage Museum and Alor Gajah.
5. Cameron Highlands
Cameron Highlands is not your typical cityscape or beach getaway, it's a different yet worthwhile place to vist. This mountainous region is blessed with dramatic lush green scenery from the emerald green tea plantations that can be explored using the designated footpaths. Apart from the tea plantations, there are also scenic lavender, orchards, and strawberry farms. Don't leave without visiting BOH Tea Plantation to get a preview of the intriguing tea making process.
6. Langkawi
Langkawi is one of the most visited and beautiful places in Malaysia. Langkawi's group of 99 islands are considered some of the best islands in Malaysia. Must-visit sights here are Langkawi Sky Bridge and Langkawi Cable Car which give the most beautiful views of Langkawi. Additional top attractions to visit in Langkawi are Skytrex Adventure, Langkawi Wildlife Park and Bird Paradise and Underwater World Langkawi.
7. Ipoh
Praised as Malaysia's culinary capital, Ipoh is its third-largest city. Ipoh is an amazing city where you'll get a chance to explore old-fashioned streets, marvel at colonial buildings, devour delicious traditional cuisine and stare at picturesque nature. Top attractions in Ipoh are the Lost World of Tambun, Sam Poh Tong, Kek Lok Tong Cave Temples and Zen Gardens.
8. Taman Negara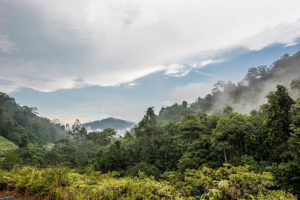 Taman Negara which means National Park, is the largest national park on the Malay Peninsula and one of the oldest deciduous rainforests in the world. There are plenty of fun activities to do in Taman Negara like bird watching, jungle trekking, exploring the caves with a guide and climbing Mount Tahan which is said to be the hardest hikes in Malaysia.
9. Tioman Island
Tioman island is definitely one of the most underrated islands in the world. Pulau Tioman is a stunning duty-free island off the southeast coast of mainland Malaysia embellished with abudance of beauty and wildlife. Adventure lovers can hike waterfalls and go jungle trekking but if you prefer a more chilled experience, you can soak up the sun with a cold drink at the beach. Tioman Island is definitely a must-visit place in Malaysia.
10. Kota Kinabalu
Kota Kinabalu is the capital and largest city of the state of Sabah. Kota Kinabalu offers a bit of everything from photogenic tropical islands to amazing national parks. Must-see sights include Mount Kinabalu which is the tallest mountain in Southeast Asia, the floating mosque, Tunku Abdul Rahman National Park, Sabah State Museum and Merdeka Square.