The Most Colorful places in the world
Our world is full of many gorgeously colored places. After my exploration, these are the bright and vibrant places I found. The areas are not only stunning, they are also rich in history and culture. Take a look below.
Balat District, Istanbul
The colorful houses of Balat District are on the former Jewish quarter of Istanbul. Despite being one of the oldest districts, it's regarded as one of the most charming neighborhoods in Istanbul, Turkey. Balat is situated along the Golden Horn past the shores of Eminönü. The narrow cobbled streets have beautifully colored homes that range from 50-200 years old. Apart from the pretty colored wooden homes, there are design shops, restaurants and dope cafes nearby. Balat is a must-see when you visit Istanbul.
Little India, Singapore
As its name suggests, Little India is a bustling area in Singapore that showcases the lively culture of Singapore's Indian community. There is so much to see and do in this pretty little town and the best ones are just a walking distance from each other. Located on Serangoon Road is Sri Veeramakaliamman Temple, the loveliest Temple in Little India. Other popular temples are Sri Srinivasa Perumal, Leong San See and Temple of a thousand lights, due to the chain of lamps surrounding the statue. Another popular attraction is the House of Tan Teng Niah, a beautiful colored 2 story villa. Little India is one of the reasons why you should visit Singapore.
La Boca, Buenos Aires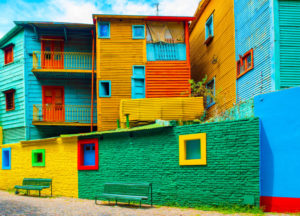 La Boca is a very colorful and picturesque district in Argentina's capital, known for having a lively party scene, plenty of tango dancing and delicious steak washed down with Malbec red wine. It further boasts passionate football fans who support Boca Juniors Football Club who play in Estadio Alberto J. Armando, one of the most famous stadiums in South America. Make sure to walk down El Caminito or little walkway, to soak yourself in the beauty of street art and people selling their artwork. Lastly don't forget to take a trip to Museo Bellas Artes de La Boca Benito Quinquela Martín, a museum exhibiting the fantastic artwork of Benito Quinquela Martín.
Chefchaouen, Morocco
The blue pearl of Morocco or Chefchaouen is one of the most Instagrammed places in Morocco. Nestled high up in the Rif Mountains, this gorgeous blue city is surrounded by green valleys offering a different view to all the blue. As you get lost in the Chefchaouen Medina, an endless maze, you'll discover pretty little spots, hidden alleys with every turn holding a pleasant surprise. While exploring you can do a bit of shopping by buying unique souvenirs, textiles, rugs, straw bags, hats, clothes and many more. Just 15 minutes from the medina lies the Spanish Mosque the best vantage point to see the sunset. There's no doubt Chefchaouen is Morocco's best-kept secret.
Bo-Kaap, Cape Town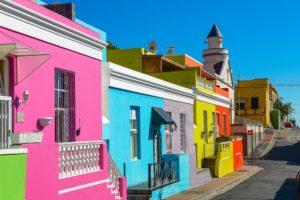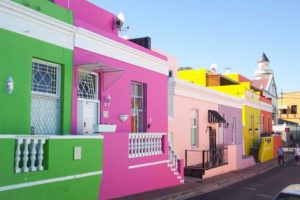 When planning a trip to Cape Town in South Africa, Bo Kaap deserves a spot on your itinerary. Though the colored homes are what draws people to Bo Kaap, the place is very rich with culture and history. It's one of the oldest regions in Cape Town and has been renamed a few times before becoming Bo Kaap which means above the cape. Bo Kaap is a lovely blend of Cape Georgian and Cape Dutch architectural styles. There's a lot to see and do here including exploring historical restaurants and shops, visiting local mosques and museums.
Jaipur, India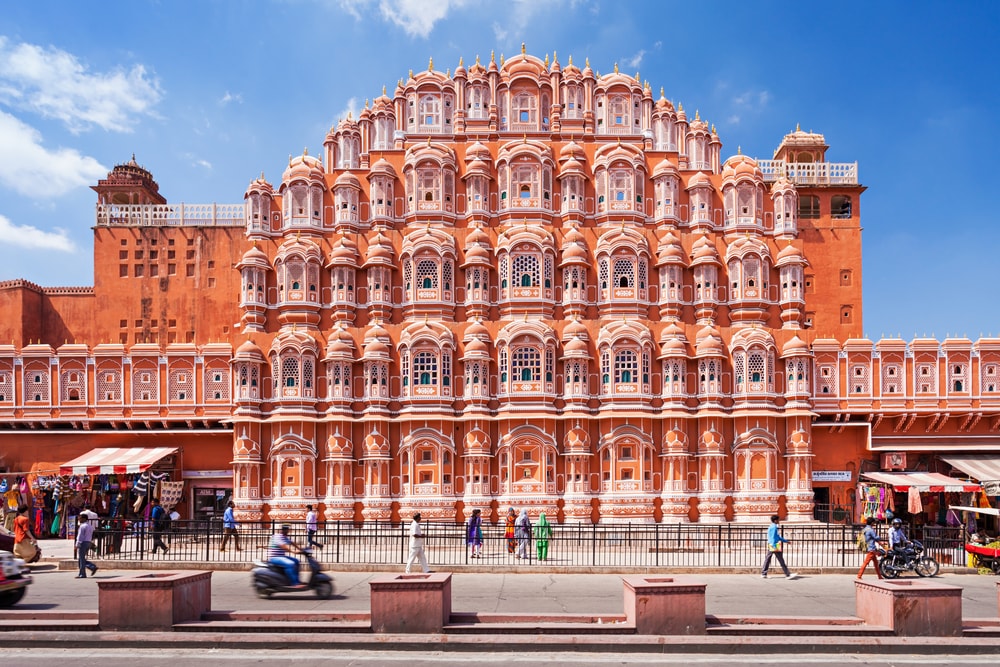 Jaipur meaning victory city is the capital of Rajasthan province and is famously known as Pink City because of the rose hue many of the buildings have. Hawa Mahal or the Palace of Winds is one of the most visited and photographed monuments in Jaipur. This five-story palace is decorated with 953 windows that fuse amazing designs. Nestled within the complex of Hawa Mahal lies a tiny museum with famous items like miniature paintings and ceremonial armor. All in all, Jaipur is a beautiful city with plenty of colorful sites to see and fun activities to do.
Peranakan Houses, Singapore
These colorful and vibrant houses are located along Koon Seng Road in the Katong District. Formerly used for coconut plantations, Katong district recently developed into a more residential suburb in the 20th century. The Peranakan, Chinese descendants who moved to Singapore, are responsible for these colored shophouses. There's still a lot you can do here after viewing these stunning colorful shophouses. You can shop for traditional Peranakan attire called 'Sarong Kebaya', beautiful beaded slippers, or enjoy delicious Peranakan dishes.
Nasir al-Mulk Mosque Shiraz, Iran
Nasir al-Mulk Mosque Shiraz often referred to as the 'Pink Mosque' or 'Mosque of colors' or the 'Kaleidoscope Mosque' is located in Shiraz, Iran. The Pink Mosque was built from 1876 – 1888 and is called the Pink Mosque because of the pretty rose-colored tiles used to build its interior. It was constructed during the Qajar Dynasty, the architects and designers behind the building were Mohammad Hasan e Memār and Mohammad Rezā Kāshi-Sāz e Širāzi. Every sunrise, the sun's light pierces through the vibrant glass windows transforming the halls into breathtaking patterns of rainbow colors.
Rainbow Village in Taichung, Taiwan
Rainbow Village is a tiny community situated in Nantun District of Taichung known for its painted houses and streets. Apart from being high on everyone's things to do in Taiwan list, Rainbow Village is very rich in history and culture. Previously, it was named Caihongjuan village and was a low-income settlement built for the communities' veteran soldiers. Years later, developers wanted to demolish some parts and buy others but one resident, Mr. Huang, vowed to save the area. He painted his and neighboring houses in protest with lovely animal and comic characters and ended up saving them. At the entrance and the back, there are food stalls while inside there's a cafe that serves you in cups covered in art.
Casa Vicens, Barcelona
Despite being declared a UNESCO World Heritage site in 2005, the construction of this masterpiece took place long ago. Antoni Gaudí, an architect, received a commission in 1883 to design a summer house for Manuel Vicens in Barcelona. He completed the iconic four-story Casa Vicens in 1885 and Manuel lived there till his death. Over the years, it has experienced numerous modifications and in 2014, Casa Vicens was converted to a museum. Tourists are now able to explore its unique yet attractive architecture and tour the rooms Gaudí strived to preserve and restore.
Rainbow Row, Charleston, Usa
Rainbow Row is on East Bay Street in Charleston, USA. The captivating row of colored houses must be on your list of must-see sites in Charleston and is also one of the most Instagrammed places in South Carolina. Behind these pretty houses lies plenty of history. After the civil war, this area is said to have fallen away but Dorothy Porcher Legge went out of her way to restore the houses by painting them a light shade of pastel pink. This act set in motion the revitalization of Rainbow Row. Outside the collective, there are individual and unique houses here with different but intriguing stories if you are willing to listen.