Maasai Mara is regarded by many as Kenya's supreme wildlife region. Located in Narok county, the big 5 is part of the large variety of wildlife living in the Mara. The big 5 animals are the lion, elephant, rhino, leopard and buffalo. Additionally, the great wildebeest migration across the Serengeti in Tanzania and Maasai Mara in Kenya, is what attracts a sea of tourists to this place. Being in the Mara all the places offer a splendid Safari experience with game drives and The Great Migration viewing but they all have features that make them unique. There are numerous charming lodges and hotels in Maasai Mara and these are the 12 most popular ones.
1) Sala's Camp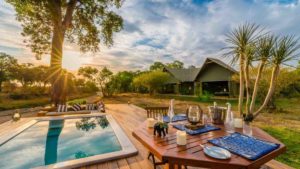 Described by guests as a place of luxury like no other, this tented accommodation provides a blend of splendour and comfort. The camp has 7 elegant and spacious tents all with baths, hot showers, toilets and running water. Start your day with a delicious bush breakfast before heading out for a game drive where you'll see the big 5, small 5 and ugly 5. End your day with cold sundowners by the campfire reminiscing on the day's adventures.
2) Mahali Mzuri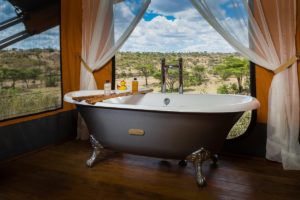 Mahali Mzuri meaning a nice place is a 12-tented magnificent safari camp. One of the most unique experiences here is visits to the Maasai community villages. When people think of Kenya, Maasai people come to mind and at Mahali Mzuri you'll get an insight into their life, culture and daily activities. If you're looking to have a more relaxed time you can head over to Nasaro for soothing spa treatments. They also offer magical night game drives.
3) Bateleur Camp
Made up of 2 camps each with 9 luxury tented suites. At this camp, you get unlimited views of the ample game in the area that can be seen throughout the year. Bateleur camp offers the most unique dining encounters from an open-air breakfast on the plains to a fireside meal at night all under the African sky. If all these don't interest you, you can ride away in a hot air balloon to enjoy views of the Mara from above.
4) Angama Mara
Angama is a stunning safari lodge sitting above the Great Rift Valley with 2 camps each with 15 cozy tented suites. Anyone who's gone on a safari before knows that no game drives are similar. At Angama you get abundant game drives throughout your stay. You can further choose to go on a walking safari escorted by a Maasai guide. Floating above and past animals on a hot air balloon is an activity that never fails to deliver.
5) Ol Seki Mara
Ol Seki is an enchanting 10-tented camp referred to by a guest as a first-class experience. The ample daily activities they offer means there's something for everyone. Depending on individual preference, you can either go on a game drive, a hot air balloon safari or guided walks. Another popular activity is taking a stroll to the Maasai community where you can buy their beadwork and carvings or a souvenir to take home with you.
6) Sanctuary Olonana
Olonana is an exemplary lodge with modern architecture on the loveliest game reserve in Africa. What makes Olonana unique is its outstanding accommodation. Their 14 impressive suites have lush interiors with glass doors, wooden floors, handcrafted Maasai ornaments and elegant lights. Activities they have are game drives, nature walks, visits to Maasai villages and a hot air balloon safari.
7) Olare Mara Kempinski
Olare Mara is a tented safari resort that prides itself in being a blend of luxury and classic safari elegance. The 12 tented resort has a central lounge and dining area, a shaded swimming pool and a tented bar. Olare offers their guests an unforgettable experience when they visit. Romantics can go on a scenic hot air balloon ride or if you're more adventurous you can go on day and night game drives. Finish your day off with sundowners and dinner in the bush under the sky enjoying the cool African breeze.
8) Sarova Mara
Sarova Mara is at the heart of the migration path making it a prime location for wildebeest migration viewing. The tented camp has remarkable experiences to suit all guests. There's so much to unearth here from identifying different bird, plants and animal species to sport fishing. Mini golf, game drives and tours to Maasai residents are also popular activities.
9) Sand River
Sand River is made up of 16 charming tented accommodations nestled on the banks of Sand River where it gets its name from. Being next to a river, guests can enjoy meals at the banks taking in the sounds of the waves while soaking themselves in the beauty of nature. Thrill-seekers can go for a to die for game drive in custom 4×4 vehicles.
10) Kichwa Tembo Camp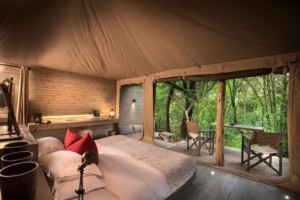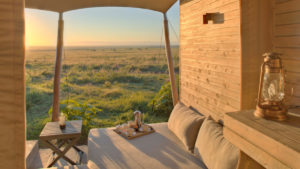 This an elite tented camp with trendy African themed interiors. Its comprised of 12 classic tents, 20 superior tents and 8 superior view tents. The huge windows in the large tents allow you to see the rich abundance of wildlife at the comfort of your room. Kichwa Tembo has a massage tent for you to relax and unwind or you can opt to chill at the pool. Don't miss a rare experience to soar above the loveliest game reserve in a hot air balloon. Make sure to pass by the Safari shop to purchase something to commemorate the wonderful trip you had.
11) Elephant Pepper Camp
After going through recent refurbishments their 8 Safari tents are now warmer, spacious and very vibrant. The remarkable tents sit under a grove of fig each with its own verandah. Elephant Pepper camp offers a wide range of adventures for visitors including breakfast in the bush, guided walks, day and night game drives and cultural visits to the Maasai community.
12) Mara Leisure Camp
Situated along Talek River, Mara Leisure camp provides a range of accommodation for families and individuals depending on preference. If you aren't too keen on spending your nights in a tent they offer cottages. While at the camp you will have a long to-do list filled with different activities each day. For those staying for 2 days, you can go on a game drive and enjoy a picnic in the park. A longer stay means more thrilling activities.
Subscribe to my newsletter to stay up to date!