10. Baur au Lac in Switzerland
Baur au Lac is a grand 5-star hotel that rests at the heart of Zurich in its exclusive park with unobstructed views of the nearby lake and alps. The hotel is just a few steps from Bahnhofstrasse, a famous shopping street. Location aside, they boast 4 dining options for their guests. The one that stands out the most is the Restaurant Pavillon, awarded 2 stars by Michelin, headed by Chef Laurent Eperon. Le Hall, Terrasse and Baur's bar are the other intriguing dining options. Their stunning suites are well furnished and exquisitely decorated fit for every customer's comfort.
9. Ice Hotel, Sweden
Nestled in the little town of Jukkasjärvi north of the Arctic circle is the unique Ice Hotel. It's made purely from ice and snow, making it one of the most unique hotels in the world. The hotel is rebuilt yearly and the rooms are kept below freezing temperatures to ensure the beds and structures stay intact. They offer a large variety of cold accommodation where everything including furniture is made of ice and snow. Plenty of activities can be done here including sled tours and observing the northern lights. Also, note they do offer warm accommodation.
8. The Kayon Jungle Resort, Indonesia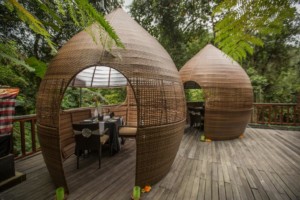 Enclosed in Bali's lush tropical greenery above the water of Uwos River lies the Kayon Jungle Resort, a place of travel dreams. The resort is a serene yet romantic place that can be used for relaxation and healing as you immerse yourself in nature's beauty. Apart from the gorgeous suites, it's their breathtaking Wanna Jungle Pool & Bar laid out across 3 levels that caught my eye. Take a pick which incredible infinity pool you want to soak yourself in. Kayon Jungle Resort offers an exquisite dining option at their Kepitu Restaurant, before or after you head over to their Serayu Spa.
7. Aqua Dome Hotel, Austria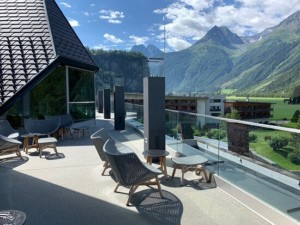 Its superb architecture along with the picturesque views of its nearby surroundings is what drew me to Aqua Dome Hotel. The levitating pools, unspoiled views of the greenery and big mountains, that look even better during winter, make the hotel stand out. However, some will argue that Spa 3000 is the hotel's best feature as it provides a large variety of features. All in all the hotel is stunning and offers plenty of room options.
6. The Edelweiss Mountain Resort, Austria
Located in Salzburg, Edelweiss Mountain Resort is a lush hideaway whose suites blend comfort and modern designs perfectly. They offer various room choices, some have direct views to the mountains and relaxing light showers while the top suite has exclusive living space, a private sauna & a pool. Their spacious kitchen along with experienced staff prepare delicious meals that guests enjoy in their 3 beautiful restaurants.
5. Shangri-La Hotel, France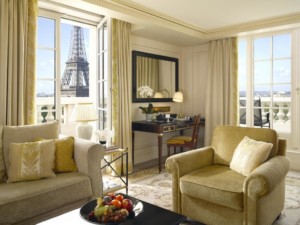 Shangri La Hotel is an irresistible choice for anyone visiting Paris because of the enviable views you enjoy of the eiffel tower and River Seine. Its prime location means it's only a few miles from Champs Elysées. They have a sum of 100 suites and rooms each tailor-made to infuse French and Asian styles. Additionally, they have a bar and 2 restaurants, one of which was awarded a Michelin star.
4. Chalet al Foss, Italy
Nestled in Sole Valley and Skirama Dolomiti Adamello Brenta lies the aesthetically pleasing Chalet Al Foss Alp Resort. They have a selection of 24 charming rooms each with breathtaking views. A few experiences that stand out at the Chalet are floating breakfast in the infinity pool, breakfast and brunch in the snow while on a heated bed and dining with the alpacas. Having dinner in the small chalet is a to-die-for experience for couples. Winter activities include skiing and summer activities are rafting, kayaking and canoeing.
3. The Ritz-Carlton, China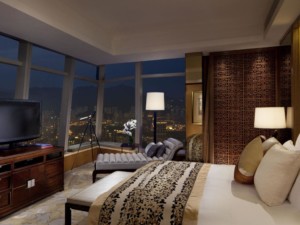 Ritz-Carlton has a number of hotels and resorts in China but the one I'll highlight is the one in Hong kong. It's a Forbes 5 star hotel with 2 Michelin-starred restaurants and also home to Ozone which is the highest bar in the world. If this still doesn't convince you, they have a luxurious indoor infinity pool with a mirrored ceiling and LED wall display and a fancy spa. Its convenient location is a good spot to experience city life.
2. Marina Bay Sands, Singapore
Marina Bay Sands Hotel has a magnificent exterior and an interior that comprises of 2560 incredible rooms of 18 different types spread out in their 55 story tower. Their Sands Skypark houses the world's largest public cantilever that holds an observatory deck, fancy restaurants, beautiful gardens and the famous 150m infinity pool. It's in the perfect location next to popular attractions like Gardens by the bay, Supertree Grove and Cloud Forest. Being so large, there's so much to explore at the hotel.
1. Atlantis The Palm, Dubai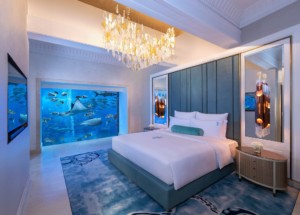 Atlantis, The Palm is one of the lushest hotels in the world. Apart from their 1,539 attractive rooms, it is their features and activities that make it popular among tourists. Despite being a luxurious hotel it is very family-friendly. They have a huge aquarium and an amazing water park. A sum of 23 elegant restaurants and bars, full-service spa and 2 huge pools, one overlooking the sea. There's a long stretch of beach facing the lagoon and its excellent location allows for a good nightlife encounter or a splendid beach party experience.
Subscribe to my newsletter to stay up to date!