A bucket list is basically a list of things you want to do before you die. Almost everyone has one but what's on the list differs from person to person. Bucket lists are personal and depend on individual interests so there's no right or wrong when it comes to making one. Being a travel enthusiast, my bucket list is made up of experiences in destinations around the world. Currently, these are the 15 experiences I wish to have.
1. Walk on the Glacier Skywalk in Canada
This is a walk on a glass floor 280 meters above the ground so if you're scared of heights keep scrolling. What attracts me the most to this place is the adrenaline rush you get when you first step on the glass walk and the stunning views you get as you walk. As its name Glacier Skywalk suggests, you get unparalleled views of ice-capped mountains, valleys formed by glacier activity.
2. Breakfast in a nest in Thailand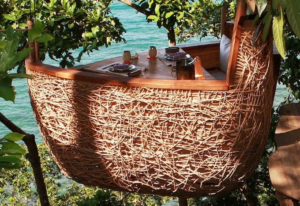 Treepod dining or eating like a bird is slowly becoming a must-have experience. Imagine enjoying a delicious meal in a treepod suspended in a rainforest taking in the splendid views of Koh Kood island in Thailand. Breathing in fresh air while also taking in breathtaking views while filling your belly is a much-needed experience for anyone.
3. Have dinner in the sky in Dubai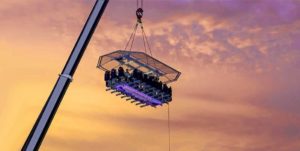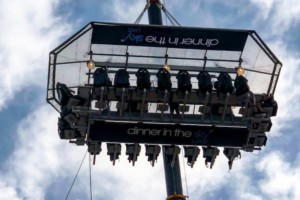 For this experience, you'll be lifted 50 metres high by a crane and you'll be suspended mid-air as you devour your delicacy as you take cute pictures for your socials. If you have a fear of heights no need to worry, all guests are strapped into their seats for safety. Being so high, you get pleasing views of Dubai and nearby landmarks.
4. Observe the northern lights from a glass igloo in Finland
Northern lights are mainly found in high latitude areas and are formed from disturbances in the magnetosphere caused by solar wind. An igloo is a house built from snow. In Norway, the igloos are made of glass for easy visibility of the northern lights and are more secure. The lights appear at night and many describe it as watching a magical fairytale in the sky as the lights float around.
5. Walk on the waterfall stairway in India
The waterfall stairway is located at the heart of Visapur Fort in India. This place wouldn't typically be on many people's bucket list but if you're a nature lover and enjoy an adventure-filled walk this is for you. During the monsoon is the best time to visit as the stairway overflows with gushing water giving you a better climbing encounter. Apart from the stairway, the Fort has other attractions to be discovered.
6. Walk on the longest and tallest glass-bottomed bridge in China
Known as the Zhangjiajie Grand Canyon Glass Bridge, this is the longest and tallest glass bridge in the world. It's 6 metres wide, 430 metres long and hangs 300 metres above the ground sitting in the canyon between 2 mountains. Adrenaline junkies who adore stomach-churning adventures will love it though not as much as anyone who looks to overcome their fear of heights. Be sure to take precaution as the glass can often be slippery.
7. Visit Tianjin Binhai Library in China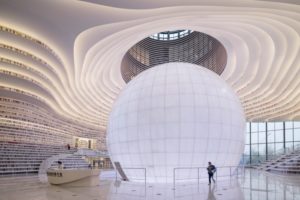 The architecture of this library is one of the most stunning features of the library. The other is its large collection of books, holding about 1.2 million books. The 5 leveled library is also known as 'The Eye' because its sphere has the shape of an eye. It's 1 of 5 cultural buildings in the Tianjin Binhai Municipality and all of them are connected by a public corridor underneath a glass canopy.
8. Pose at Gates of Heaven in Bali
Pura Luhur Lempuyang or Gates of Heaven is one of the most instagrammable places in the world. There really isn't an exciting explanation why I want a picture here. I've seen beautiful pictures with Mount Agung in the background and good editing to make it look like there's water underneath. Plus there's a variety of poses and stylish clothes you can wear to make the pictures aesthetically pleasing. Note that the Gates of Heaven is a religious temple so you'll need to dress and act appropriately.
9. Sit on Trolltunga cliff in Norway
Trolltunga (Troll Tongue) is a cliff 1,100 metres high on the edge of a mountain. The hike to the cliff begins at the dreamy Ringedalsvatnet River. When you sit at the edge of Trolltunga you get unobstructed views of the nearby Norwegian mountains. You can pose for pictures with nature as your background or camp next to the cliff for a few days. However, you need to be extra careful when there to avoid accidents.
10. Swing on the edge of the world in Ecuador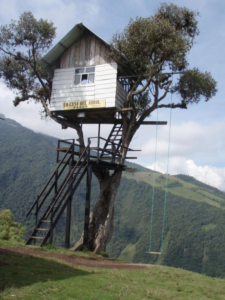 Otherwise known as La Casa del Arbol, the swing is located in Baños on a mountain next to an active volcano. The famous swing hangs on a beautiful tree close to a pretty wooden treehouse. From an angle, it seems like you're swinging into nowhere with a big drop below you but really there's a hill underneath it. Additionally, there are safety precautions in place so don't worry about falling off.
11. Go to the White Temple in Thailand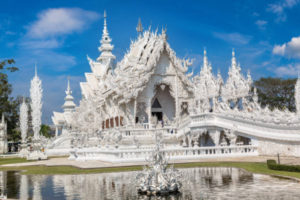 The Wat Rong Khun or White Temple's splendid white colour represents the purity of the Buddha. Thailand has a large number of temples but this is the one that caught my eye the most because it's all white, most are gold. The majority of the symbols, structures and mythical creatures have a religious meaning. You're only allowed to take pictures outside not inside.
12. Batu Caves in Malaysia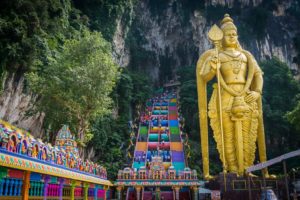 Batu Caves are a must-visit anytime you go to Malaysia. They are protected by a monumental statue of Hindu Lord Murugan. The limestone caves home Hindu temples and there are 272 colored steps to the Cave Temple. On the way up the mountain, you'll interact with cheeky monkeys. Several ceremonies take place inside the Temple Cave but you can just walk around and take in the magnificent spiritual atmosphere.
13. Walk in the spectacular orchid forest in Indonesia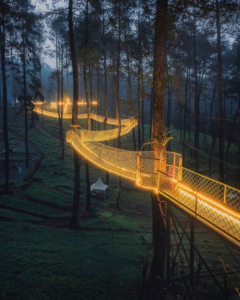 Orchid Forest Cikole Lembang is a magical park at the heart of Pine Forest and is gorgeously decorated with various types of orchids. There's a lot to be done here but my pick is to walk on the 3 metres high sky bridge. At night the bridge is lit up with mystical lights making it a sort after spot for beautiful pictures.
14. Attend a floating lantern festival in Thailand
Loy Krathong or the floating lantern festival is a festival where paper lanterns are released to soar away into tthe sky. It is believed that the festival brings about good luck as all your worries float away. Who wouldn't mind a bit of luck!
15. Visit the valley of 72 waterfalls in Switzerland
There are 72 waterfalls pouring into the Lauterbrunnen Valley in Switzerland. Hiking Lauterbrunnen gives you a magical blend of steep rock walls and alps with the sound of the 72 waterfalls gushing down as you breathe in the fresh air. The valley is about 1 kilometre long so be sure to wear comfortable shoes when you visit.
Subscribe to my newsletter to stay up to date!