The ranking of the world's best airports is often changing with some airports falling out of the list while others join the illustrious list. Recently, the top spot has been held by either Singapore Changi Airport or Hamad International Airport. The list is curated from the votes of customers from all over the world. Hotel ranking is based on customer satisfaction, cleanliness, security, ease of access, shopping and dining options available. Below is the list of the world's best airports in 2023.
1. Singapore Changi Airport (SIN)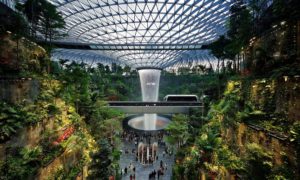 It's no surprise this picturesque airport has clinched the top spot. This airport is favored with a variety of restaurants, beautiful waterfalls, a lovely garden, a cinema, a rooftop pool and seamless operations. Singapore Changi Airport is said to be one of the busiest airports in Southeast Asia and is also the operating base of Singapore Airlines, Singapore Airlines Cargo and Scoot. The airport's cleanness and array of entertainment options are why it never leaves the list of the world's best airports. Also, check out places to visit in Singapore.
2. Hamad International Airport (DOH)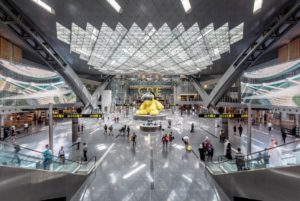 Many people regard Hamad International Airport as the best airport in the world and rightly so. Hamad, the international airport of Doha and also the home of Qatar Airways is famous for its unique architecture and premium amenities. Hamad boasts housing luxury boutiques, quiet rooms and entertainment zones for kids making it ideal for long layovers. Additionally, comfort, cleanliness and a great transport system with a train that transports passengers from one terminal to another contribute to it being the best airport in the world.
3. Tokyo Haneda (HND)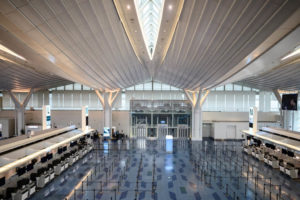 Previously known as Tokyo International Airport, Haneda Airport is Japan's busiest airport and among the world's busiest airports. It was initially built to handle Tokyo's domestic air traffic and subsequently, it has way more domestic flights compared to international flights. Tokyo Haneda Airport has three terminals: Terminal 1, Terminal 2 and International Terminal 3. Some of the facilities and services at the airport include portable Wi-Fi rentals, an observation deck, and amusements among others.
4. Seoul Incheon International Airport (ICN)
Formerly the airport of the year, Seoul's Incheon International Airport is the biggest airport in South Korea and one of the busiest airports in the world. Incheon Airport is the hub for Asiana Airlines, Korean Air, Air Busan and Air Incheon. The airport has amazing things to discover like the Incheon Airport Museum, the Oseong Mountain Observatory Deck, The Gateway, Dancing Crane, Melody of Light, an indoor skating rink and a cultural street. All these perks contribute to it being a part of the world's best airports. While there, these are the best attractions to visit in Seoul.
5. Paris Charles de Gaulle Airport (CDG)
Paris CDG or Roissy Airport is found 26km northeast of Paris and covers 32.38 square kilometres of land. It was opened in 1974 and is named after Charles de Gaulle, a former French army officer and statesman. The airport is filled with lounges, numerous dining options, gaming areas, exhibitions and luxurious hotels for passengers with long layovers. Additionally, it's a shopper's paradise as it's packed with stores(some duty-free).
6. Istanbul Airport (IST)
Despite opening in 2018, Istanbul Airport has consistently appeared in the list of the world's best airports. Istanbul Airport's modern architecture has caught the eye of many. It has further received a number of accolades for its sustainability and efficiency. The airport has slowly become the busiest airport in Europe and is the principal hub of Turkish Airlines. Istanbul airport has an impressive total of 201 shopping and 79 food & beverage areas. Here are the best places to visit in Istanbul.
7. Munich International Airport (MUC)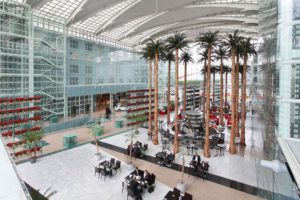 Regarded as a city center rather than an airport, Munich International Airport is the second busiest airport in Germany after Frankfurt Airport, and Lufthansa German Airlines' secondary hub. At the airport, they offer recreational areas for anyone who needs a break, a VIP wing and lounge where class meets comfort and Mountain Hub Spa that's your ultimate gateway to relaxation. Moreover, they have 150 retail stores and an additional 50 places to drink and eat. With all these features, it's unsurprisingly one of the best airports in the world.
8. Zurich Airport (ZRH)
Zurich is Switzerland's largest and busiest international airport and the principal hub of Swiss International Air Lines and Edelweiss Air. They have an enviable array of restaurants, bars and cafes that are guaranteed to leave you spoilt for choice. Furthermore, at the airport, you can enjoy duty-free unique shopping and then make your way to the observation deck to enjoy unobstructed views of the bustling airport.
9. Tokyo Narita International Airport (NRT)
Tokyo Narita Airport is the international airport that serves the Greater Tokyo Area of Japan and is the operating base of Japan Airlines and All Nippon Airways. Narita Airport is home to the famous capsule hotel called 9 Hours, which has a 24-hour reception and check-in that caters to travelers who need to sleep or take a quick shower. The airport is lined with restaurants that serve popular Asian cuisines, cafes, bars and a fast food chain restaurant.
10. Madrid Barajas Airport(MAD)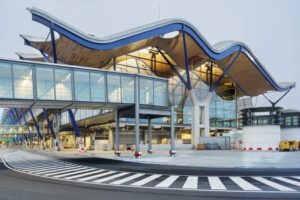 Set 12km from Madrid city center the airport changed its name from Madrid-Barajas to Adolfo Suárez Madrid-Barajas in 2014. It's the 2nd largest airport in Europe and the main international airport serving Madrid. Madrid-Barajas boasts 4 passenger terminals, an Executive terminal, and an air cargo area, Further, the airport has an impressive range of duty-free shops, VIP lounges, and dining options like cafes, restaurants, bars and fast food spots.
15. Kansai International Airport (KIX)
Kansai International Airport serves as the primary international airport in the Greater Osaka Area of Japan. It provides one of the largest networks not only for international but also domestic routes with 24-hour operations. Kansai Airport's Terminal 1 has a length of 1.7 km and is the longest terminal in the world. They provide multiple food options including fast food, light meals, western food, Japanese meals and Chinese food. While at Kansai, don't forget to make your way to Kanku Observation Hall Sky View.
17. Dubai International Airport (DXB)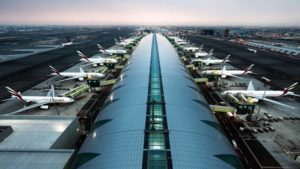 Dubai International Airport is one of the biggest, busiest and one of the best airports in the world. It houses one of the largest duty-free shopping centers in the world and serves as the operating base of Emirates Airlines. While at the airport you can enjoy some retail therapy, explore the cuisines of the world in their vast dining spots, or simply relax in their spa and swimming pool.
22. London Heathrow Airport (LHR)
Heathrow Airport is probably one of the world's busiest international airports in terms of passenger traffic. British Airways and Virgin Atlantic Airways use the airport as their principal hub. With its reach to 180 airports across 90 countries, it covers almost every corner of the globe. London Heathrow has an admirable range of restaurants meaning everyone's preference is catered to. Additionally, you can shop til you drop with a number of well-known clothing stores waiting to serve you. If you find yourself in London, here are the top sights in London.