Barcelona is the beautiful capital city of Catalonia and also its largest city. Its incredible architecture, most of which were designed by the great Antoni Gaudí, is what draws millions of tourists to the city. If the architecture doesn't tickle your fancy, there's plenty of other top-rated attractions to explore from museums, parks to lovely beaches.
1. La Sagrada Familia
La Sagrada Familia is to Barcelona what the Eiffel Tower is to Paris, it's a must-visit anytime you go to Barcelona. The Sagrada Familia is a large unfinished church designed by Antoni Gaudí. Its construction commenced in 1882 and it's currently still under construction. Upon completion in 2026, it's expected to be the world's tallest church. The cathedral primarily features gothic style elements but also embodies different design styles that give it a unique yet eye-catching look. It's no surprise that the beauty of La Sagrada Familia is what attracts tourists as the blend between the old and new architectural styles is a sight to behold.
2. Casa Batlló
Casa Battló is another amazing building to add to Antoni Gaudí's long list of impressive creations. This UNESCO-listed masterpiece is located in the heart of Barcelona, locally called Casa dels ossos meaning house of bones attributed to the house's skeletal exterior. Casa Battló was initially designed to be a private residence for Josep Battló i. It's enveloped in pieces of glass with vibrant colours that often change, stunning tiles along with its skeletal balconies and boney windows making it a spectacular sight. Be sure to arrive early to skip the long queues.
3. La Rambla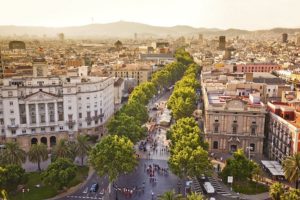 Often referred to as the social hub of Barcelona, La Rambla is a street in central Barcelona that's about 1.2 km long. This bustling pedestrian street lined with trees, connects Plaça de Catalunya and Port Vell. It's a relatively long street but along the way you'll find a lot of restaurants, cafes, street performers and shops. La Rambla tends to have many people some of them being pickpocketers so make sure you watch your valuables while there. It's among the most famous streets and in some ways it's similar to Champs-Elysees, Oxford Street and Istiklal Caddesi.
4. Park Güell
This public park in Barcelona is a UNESCO World Heritage Site that was designed by Antoni Gaudí and built from 1900 to 1914, then officially opened in 1926. Park Güell covers 42 acres and has one long wavy stone bench decorated with beautiful mosaics and breathtaking views of the ocean. The park is favored with wonderful picnic areas and terraces that display incredible views of the city and the sea. Further, in the park you'll see Casa Museu Gaudí, the place where Gaudí lived and get an insight into his life and work. There are parts of the park that are free while other parts require you to pay to access.
5. Casa Milà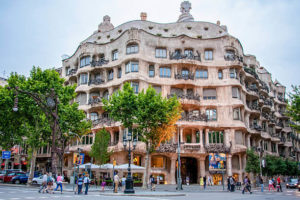 Also known as La Pedrera meaning The Stone Quarry, Casa Milà was constructed between 1906 and 1912 and was the last private residence that Antoni Gaudí designed. The building was commisioned by Pere Milà and his wife but today it's a cultural centre. Casa Milà is a fascinating building characterised by it's unique curved stone facade, twisting wrought iron balconies and a roof adorned with chimneys of different designs. If you're a fan of Antoni Gaudí's work or even just a lover of architecture, then this building is a must-see.
6. Picasso Museum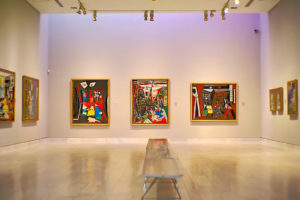 Picasso Museum or Museu Picasso offers a change of scenery from Antoni Gaudí's works of art. The museum is spread over 5 palaces that showcase 4,251 works by Picasso. Additionally, the museum displays the art in chronological order allowing you to see the progression from his early art work to what he did in his later years. Despite having most of his art in this museum, some of his famous paintings are in other cities like The Weeping Woman is in London's Tate Modern while Guernica can be seen in Madrid's Reina Sofia. The museum receives plenty of visitors and tourists are advised to purchase tickets prior or come early to skip the long lines.
7. Gothic Quarter
The Gothic Quarter or Barri Gòtic is the most ancient quarter in the city that stretches from La Rambla to Via Laietana and from the Mediterranean seafront to the Ronda de Sant Pere. There are plenty of beautiful medieval-era architecture, ancient churches, museums, plazas and food spots. Note that the streets are very narrow so you'll have to explore them on foot. Unmissable places in the Gothic Quarter are Plaça del Rei, Cathedral of Barcelona and Picasso Museum,
8. Casa Vicens Gaudí
Considered to be architect Gaudí's first major project, Casa Vicens was constructed between 1883 and 1885 in the Gràcia neighbourhood of Barcelona. The house is built in the Neo-Mudejar architectural style and was used as a summer house for the Vicens family. Over the years, it has experienced a number of modifications and in 2014, Casa Vicens was converted to a museum. Tourists are now able to explore its unique yet attractive architecture and tour the rooms Gaudí strived to preserve and restore. In 2005, it became a Unesco World Heritage site due to its unparalleled beauty and elegance.
9. Barceloneta Beach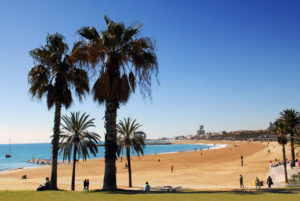 Barcelona bordering the Mediterranean sea means there's a break from the city's art and architecture. The city's 2 main beaches are La Barceloneta and Platja de la Nova Icària and are divided by the Port Olimpic harbor. La Barceloneta is the most visited of the pair, popular for its vibrant atmosphere and lovely blue water. It's very easy to reach meaning it tends to get very crowded but tourists are impressed with how clean it is despite having the large crowds. The beach is also lined with cafes, bars and vendors.
10. Montjuïc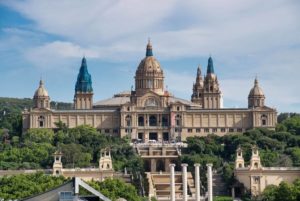 Montjuïc is a hill with fascinating historical attractions at it's relatively flat top. The atttractions you'll spot at the summit are Montjuïc castle, National Catalonian Arts Museum, the old grounds for the 1992 Olympic Games, and the Poble Espanyol Museum. Montjuic castle was built to be a military fortress, later served as a prison and military base but today it's a public museum. Nearby there's the Montjuic magic fountain that showcases fountain and light shows at night. Poble Espanyol or Spanish Village is an open air museum that will give you an insight into Spain's history.