Despite having a wide variety of captivating cultures, most tourists are fascinated by the abundance of wildlife the continent boasts. Africa can't pride itself in having the first ever or even the largest national park in the world but it's home to many exceptional parks and reserves. Though there are many national parks in Africa, these are arguably the 10 best ones.
1. Maasai Mara, Kenya
Maasai Mara, Kenya's supreme wildlife region is a must-visit anytime you travel to Kenya. Situated in Narok, the big 5 is only a small part of the large variety of wildlife living in the Mara. The big 5 animals are the lion, elephant, rhino, leopard and buffalo. Additionally, the great wildebeest migration across the Serengeti in Tanzania and Maasai Mara in Kenya, is what attracts a sea of tourists to this place. What makes Maasai Mara so special is the numerous activities it has and the many ways the national park can be explored. Tourists have the option to go on day or night game drives or they can even explore the park on a hot air balloon or helicopter. If you're planning a trip to Maasai Mara check out these stunning camps and lodges.
2. Kruger National Park, South Africa
Kruger National Park in South Africa offers a safari experience like no other. Apart from the big 5, Kruger's 20,000 square-kilometres is also home to over 160 mammals and over 500 bird species. Kruger is one of Africa's largest national parks which means there's a lot to discover here. A few of the top spots include Balule, a natural reserve nestled on the western border of the park where Olifants River flows attracting plenty of animals. Kruger offers insightful walking safaris and night drives. The best part about this park is it welcomes self-drive guests and day visitors for those who don't wish to stay overnight. For those who want longer stays, Kruger has many charming lodges to stay in that boost your tourist experience.
3. Serengeti National Park, Tanzania
Seeing Serengeti National Park included in UNESCO's world heritage list doesn't surprise me. Serengeti is Tanzania's oldest but most exciting national park. It serves as a great vantage point to witness the annual Great Wildebeest migration, the movement of thousands of wildebeests and zebras into Maasai Mara, that takes place from july to September. Serengeti provides hot air balloon safaris where you have unobstructed views of its asssorted wildlife, captivating scenery and vast plains. Here you will get a chance to learn about the iconic Maasai culture. In a bid to maximize tourist experience, luxury lodges and camps with fantastic features can be found in or next to the park.
4. Etosha National Park, Namibia
Etosha National Park is a fascinating park situated in the northwest region Namibia. Its stand out feature is its huge salt pan that shimmer in the park's heat. It's said to be so large it can be seen from space. Despite it's saline nature, thousands of wildlife still congregate here. Impressively when it rains, the pools of water in the salt pan attracts numerous flamingos. Salt pan aside, Etosha boasts an abundance of wildlife that ranges from common animals to the rarest of animal species. Inside Etosha National Park there are many camps to stay in like Dolomite, Halali, Namutoni, Onkoshi and Olifantsrus camp. Right next to Etosha lies Onguma private nature reserve and it's regarded as Namibia's best kept secret.
5. Hwange National Park, Zimbabwe
Occupying an excess of 14,600 square kilometres of Zimbabwe's southwest region, Hwange National Park sits between the famous Victoria Falls and Bulawayo. With a spectacular diversity of game, here you'll find different species of wildlife. Hwage National Park's abundance of mammal species is believed to be the most diverse out of all the world's national parks. Hwange is as big as Belgium which means it can comfortably hold an astounding 50,000 elephants, making it the world's largest elephant sanctuary. Beyond elephants, you will also spot the big 5, rare species like sable and endangered species like the wild dog. The park has many drilled pans accompanied by seasonal pans that provide water for the animals. Also present, are enchanting accomodation options for overnight guests.
6. Virunga National Park, Congo (DRC)
Virunga National Park, located on the eastern part of the Democratic Republic of Congo (DRC), is part of the short list of national parks on UNESCO's world heritage list. Despite having multiple species of birds, mammals, reptiles and amphibians, it's the endangered mountain gorillas that draw people to Virunga. Virunga has often been called the park of fire and ice as it has a variety of habitats spanning from the Rwenzori peaks to savanna and volcanic plains. Despite being the most biodiverse protected area in Africa the park is constantly facing natural disasters, poaching and even war but the Virunga Foundation is doing its best to protect it.
7. Ngorongoro Conservation Area, Tanzania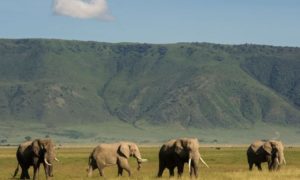 Ngorongoro Conservation Area is located in an area favoured with a high density of wildlife which makes for phenomenal game viewing. Ngorongoro is an unspoiled safari playground. Being a Unesco World Heritage site isn't the only reason why you should visit Ngorongoro, there's so much to explore here. In spite of the rich wildlife in the area from the big 5 to herds of zebras and wildebeests it's Ngorongoro crater, the world's biggest inactive volcano, that many find more alluring. At Ngorongoro, you have an unmissable chance to visit the Maasai village, a famous nomadic race.
8. Amboseli National Park, Kenya
If you enjoy exploring breathtaking landscapes and fascinating African wildlife, Amboseli national park awaits. Amboseli, a Maasai word meaning 'salty dust' is located in the southern part of Kenya and is famous for its large herds of tusked elephants and breathtaking view of Tanzania's Mount Kilimanjaro. Amboseli has an underground water supply that stems from Kilimanjaro's ice cap branching into two clear springs of water. Amboseli offers outstanding wildlife viewing though at times big cats may be hard to spot. Other activities here include an insightful visit to the local Maasai community where you will learn about their authentic culture. The park has an array of lavish accommodation options to choose from.
9. Chobe National Park, Botswana
Chobe National Park in Botswana is one of Africa's top national parks offering great wildlife viewing all year round. Chobe is favoured with multiple waterways including Chobe River that flows through the park and serves as a meeting point for birds and animals. Additionally, boat rides and game drives along the river are common activities. The park has 4 sections namely, Linyanti wetlands, Savuli channel, Nogatsaa and Serondella. Each of the 4 locations has a distinct geographical landscape. Apart from wildlife spotting, birdwatching is equally a popular activity here. Chobe has 3 exemplary campsites for guests who prefer spending nights under the stars rather than in lush camps & lodges.
10. Volcanoes National Park, Rwanda
Nestled in the northwest part of Rwanda, Volcanoes National Park in Rwanda is a true wildlife paradise. Volcanoes National Park is named after the series of dormant volcanoes that make up the Virunga Massif. The park's lush evergreen forest is home to the roaming endangered mountain gorillas and protects the steep slopes of Virungas mountain range. Volcanoes is home to the highest number of mountain gorillas in the Virunga Conservation area. However, gorillas aren't the only animals available at the park. Other animals include many bird species, rare golden monkeys, reptiles and amphibians.